I'm a mom of three, a professional accountant, and an amateur photographer and writer. I am not a marriage expert. But my husband and I take "Til death do us part" seriously, and here I'll be sharing how we keep our marriage strong while we both do that insane work-life juggle.

Check out my Work It, Mom! profile and my blog, Dutch Blitz.
| | | | | |
| --- | --- | --- | --- | --- |
| | | | | |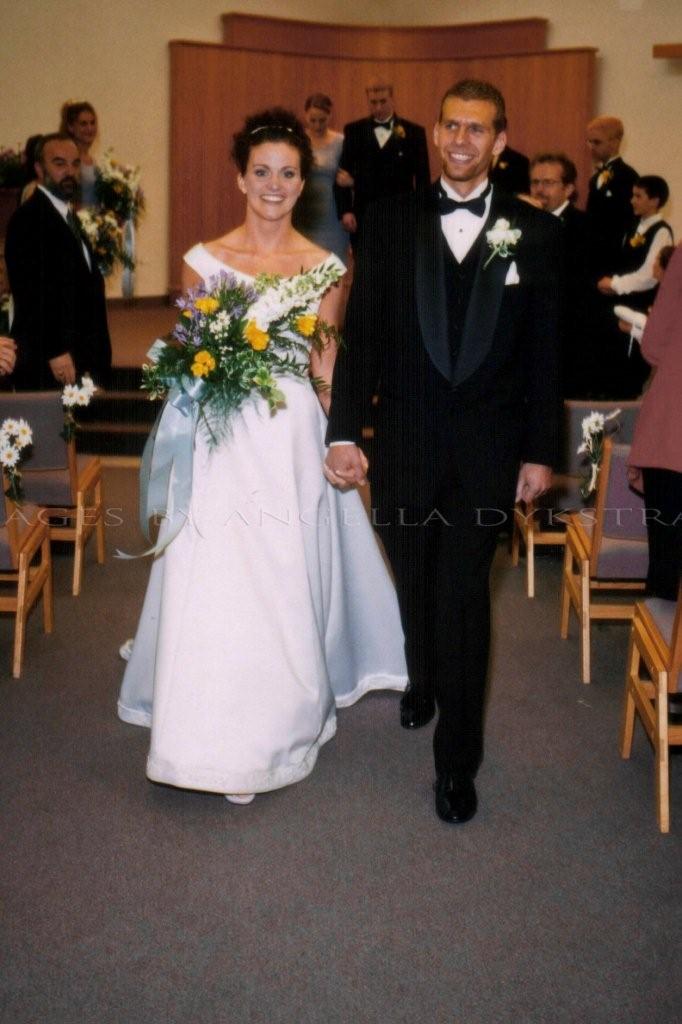 My husband and I will be celebrating our tenth (!) wedding anniversary in May. Our kids are old enough to understand the calendar (Well, the oldest is - his brother lives in a constant state of "I don't know" and his sister is only three) which means that the topic of our wedding has been brought up as of late. This past weekend we hauled out our wedding albums, much to the delight of our little monsters monkeys.
Looking through the photos got me thinking about that whole day and how once it was over and we were on our honeymoon, my husband and I both agreed that if we were to go back in time and do it again, we would have eloped.
It's not that the day was bad or anything. It was fine and good and I ended up married to the love of my life when all was said and done. It just wasn't amazing.
We paid for our own wedding and refused to go into debt to do so, which meant that we put a lot of hours into preparing things ourselves and cut corners where we could. We made centerpieces but there were no decorations. We had our reception in the gymnasium at our (large) church which did not make for a magical atmosphere…nor did it allow for wine and/or dancing. We had dinner, made the rounds to say hi to everyone and then the party was over. Well, another party was about to begin but I'll spare you the details.
When we were laying on the beach in Mexico we wished that instead of hosting a dinner for 125 people, some of whom we barely knew (But were ordered to invite), we had just gotten married at the resort we were staying at. Breathtaking location, beautiful facilities, tropical atmosphere. Anyone that wanted to join us would be welcome to, but that would be up to them. Then, upon arriving home we would have a backyard barbecue with our close friends and family.
To us, that sounds pretty close to perfect.
What are your thoughts? Is a big wedding the way to go or does a trip to Mexico (Or Vegas!) sound like a better option?
Subscribe to blog via RSS
Check out our popular Q&A area to ask questions and search for answers.
Check out our favorite quick and easy recipes, perfect for busy moms.
Check out our daily picks for affordable luxuries for you and your family.