| | | | | |
| --- | --- | --- | --- | --- |
| | | | | |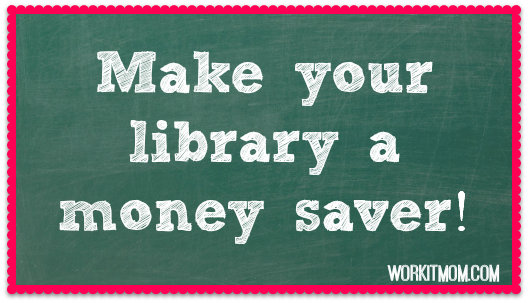 When I was little, I was such a book worm.  I grew up in a small town and was able to walk to the library whenever I wanted…I couldn't miss a new Baby-Sitters Club book!  Once I was in college, reading became a chore and the library was for cramming sessions before exams.  It wasn't until after I had the twins that I started to love reading again.  If you have a family who loves to read or watch movies, the library can really save you tons of money!
I know that you can probably get movies quicker with Redbox, but who remembers to return them on time?  We always pay like $5 for a "free" movie.  With our library, I just put movies or TV shows we want to watch on a hold, even before they are released, and they will alert me when they're ready.  Yes, we do have to wait for more popular ones…but it's not a big deal for us.  In the winter, we tend to binge watch a new TV show (we're on 24 now!) and you can check out whole seasons at a time.
Trying to workout at home?  Before you go off buying every Jillian Michaels DVD at Target (they are all amazing, though!), check them out at the library first!  Our library even has P90X and Insanity!  You can try them out for 3 weeks before investing tons of money.  Plus, it's good to switch up your routine.  After you return it, get a new one for a well-rounded (and free!) at home workout!  Aside from DVDs, you can also try the Zumba game.  The Wii one is so much fun!
Did you know you can check out eBooks for your Kindle or Nook?  You don't even have to leave your house for books now.  I keep a "wish list" and place holds for popular books.  It's also fun to browse and find new books you might not have heard of before.  I always have 4-5 eBooks checked out when I'm traveling.  Magazines are also available for your reader or actual paper copies.  I have a slight magazine addiction; I love to check out the new Marie Claire for free on my Kindle.
The girls are just starting to show interest in our Wii, so we like to check out new games from the library.  I hate to waste money on a game that is too advanced or that they don't like…trying it out first saves tons!  (Side note: we love Just Dance Kids 2014…highly recommend it)  My hubby goes through phases where he wants to play Madden like he's 14 again.  Our library has games for Wii, Xbox and PlayStation.
When we go on road trips, we like to check out a bunch of CDs.  Before shelling out $10+ on a new CD, I like to listen to it first.  I'm so glad I didn't buy Britney's new CD (sorry, Brit), but I fell in love with the Justin Timberlake 20/20 and put it on my Christmas list.  The girls love Kids Bop (ugh…).  Your library might also offer free MP3 downloads through FreeGalMusic…I need to remember to use it more!
Aside from checking items out, the library is a great place for the kids to play.  On your local library's website, check the playgroups or events.  We have a weekly toddler story time which is perfect for meeting other parents.  Ours has concerts outside in the summer and monthly movie nights.  The book sales are always amazing too, plus you can help out the place that saves you so much money!  If you need a meeting place, your library might offer conference rooms.
There are other perks for teens and adults.  If you have a student getting ready for a big test (think: ACT/SAT), many offer books and practice tests.  Those guides are really expensive, so this is a great money saver.  Also, ask about online classes…there are many free courses available if you're looking to expand your horizon!
Okay, okay…I'll stop rambling.  As you can see, I love our library.  I do realize all libraries aren't the same and some may charge a small fee to check out items like movies or CDs.  You are still able to save tons of money by taking advantage of all your library offers!!
What's the best book you've read this year?  I need to add to my list!
Subscribe to blog via RSS