| | | | | |
| --- | --- | --- | --- | --- |
| | | | | |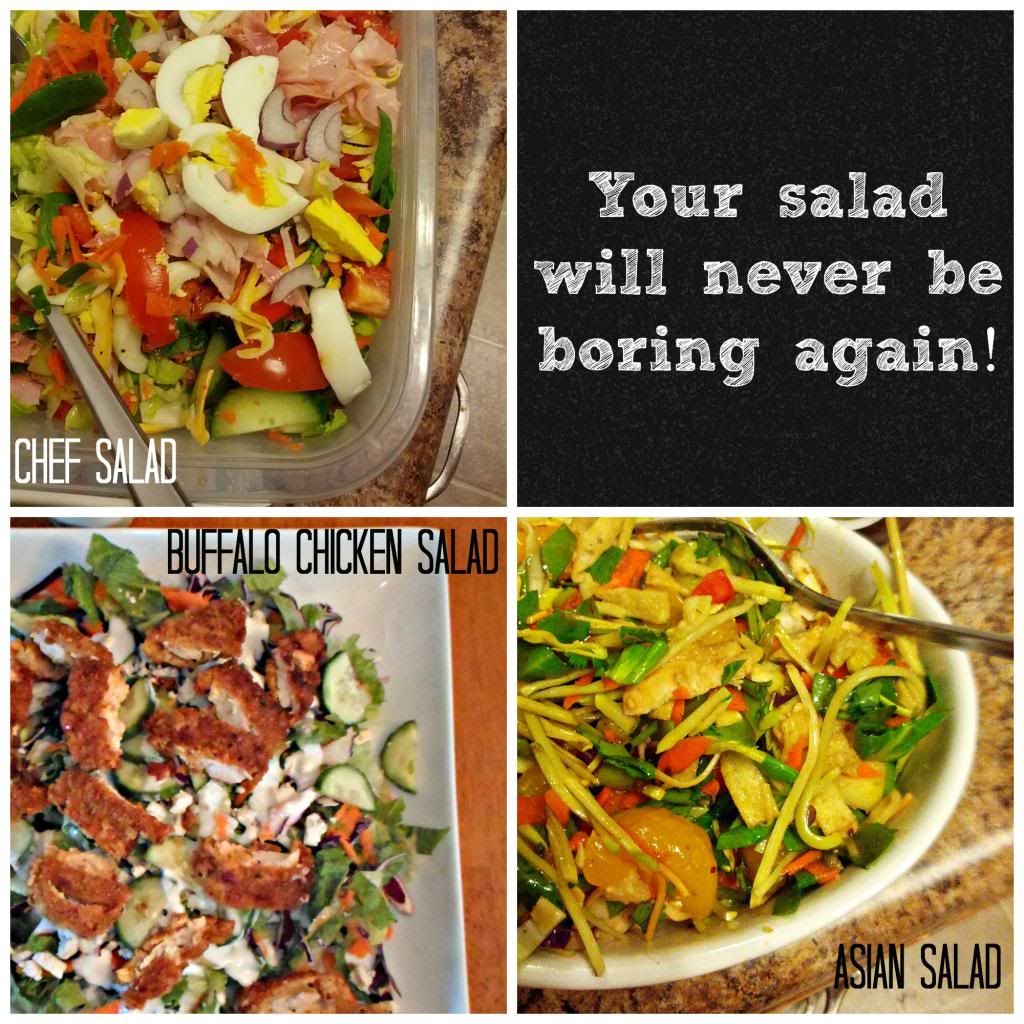 If something isn't convenient for me, I tend to avoid it.  Lunch, for instance.  I know I should eat a nice, hearty lunch every day…but if I open up the fridge and nothing jumps out at me, I just make myself a cup of coffee.  SO not healthy!  By the time dinner rolls around, I'm famished and grouchy.
I have a collection of salads that are easy and all stem from the same base chopped salad!  One night, you can spend less than 30 minutes in the kitchen chopping up your salads for the week.  Using a few different marinades and toppings, the salads will never be boring again!!
Base Salad (of course add or subtract to taste)
5 cups of chopped greens- mixture of romaine, spinach, kale or iceburg
1 cup chopped carrots
1 cup chopped green or red peppers (about ½ a pepper)
½ cup chopped radishes
1 cup chopped cucumbers (English are best to prevent soggy salads)
Chop everything in a uniform size and place in a large bowl to toss. I aim for about 2 cups of chopped salad per lunch (before toppers), so you might want to double this for 5 days of salads.  Do what you want, though!  The recipe above is what I use for two dinner salads.

Once you chop the salad, store in Ziploc bags with a dry paper towel on each side.  Make sure you get as much air out of the bag as possible.  This will help keep it fresh in the fridge for up to 5 days!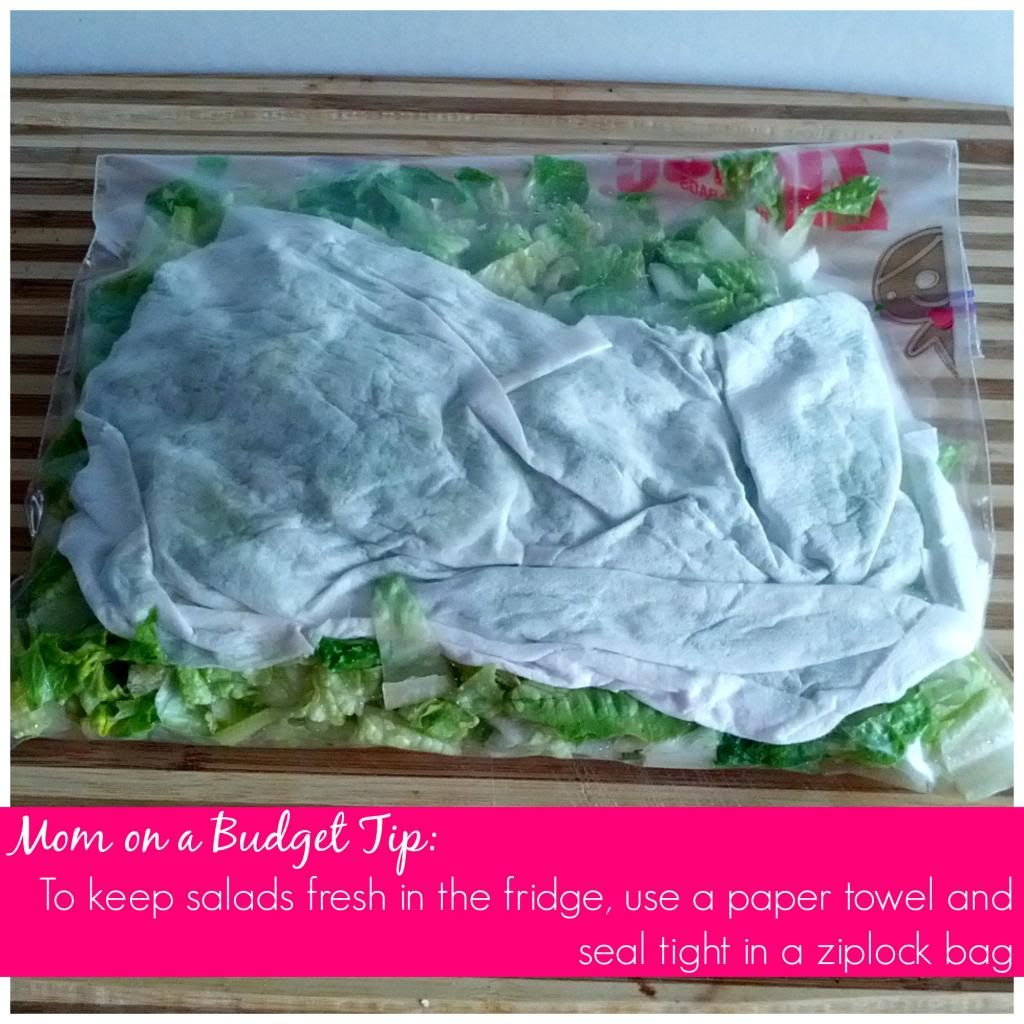 Now here comes the fun part!  I love to experiment with different spices and marinades. See photo for my favorites.  You really can't go wrong with any of the McCormick Perfect Pinch or Mrs. Dash spices…they all add a burst of flavor for any grilled chicken or meat.  You can also marinade chicken in dressings for great flavor.  I like to put chicken breasts in individual bags with the marinades in the freezer.  Just take one out the night before and grill it on your Foreman/stovetop.  You can also grill a bunch of chicken or steak and have it ready for the week!

1.       Asian Chopped Salad.  This is sort of like the one from Applebees, but MUCH healthier.  You don't even want to know how bad that dressing is for you!  This one I use an Asian Sesame dressing (I like Kraft or Newman's Own), the chopped salad, green onions, cilantro and chopped pea pods.  Add mandarin oranges or sliced mango for a touch of sweetness.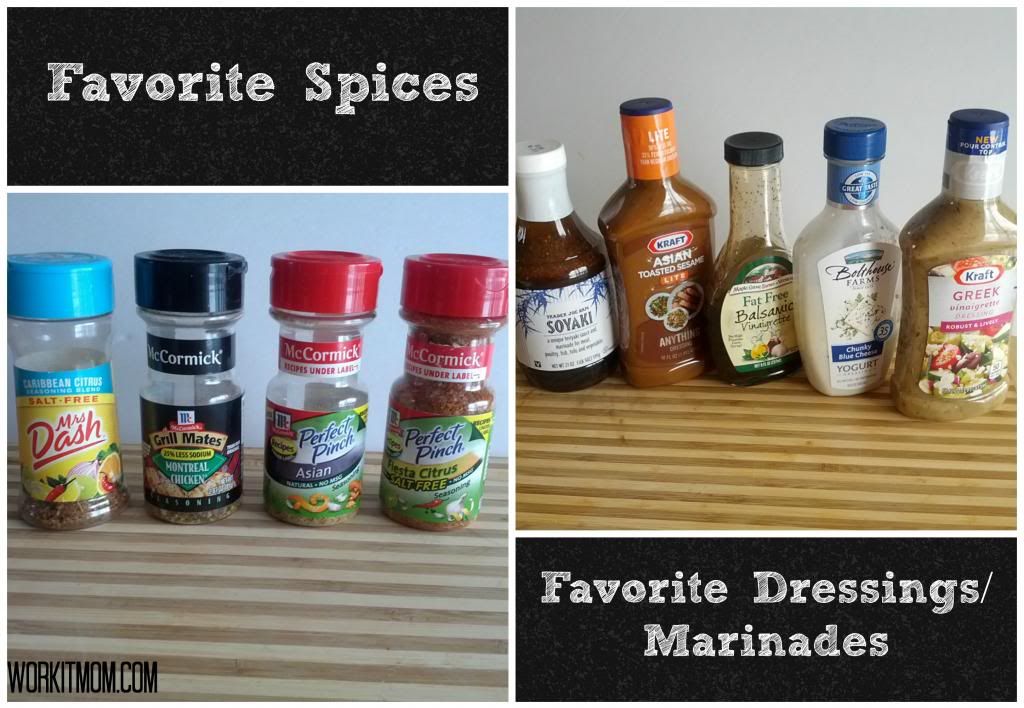 2.       Greek Salad. Marinade some chicken in the Kraft Greek vinaigrette for at least 2 hours. In addition to the chopped salad, add ¼ cup feta cheese, ¼ cup chopped red onion, handful of grape tomatoes, ¼ cup Kalamata olives and extra cucumbers.  This is great with a side of my Naan bread.
3.       Mexican Salad. Grill chicken with the Fiesta Citrus seasoning.  To the chopped salad, add ¼ rinsed canned black beans, ¼ cup corn, ¼ cup salsa, ½ chopped avocado, ¼ cup shredded Colby jack cheese, handful of chopped cilantro and a sprinkle of crushed tortilla chips.  This is great with leftover taco meat too!  I like to mix ranch and salsa for dressing, or just mash up the avocado more.
4.       Buffalo Chicken Salad. You can marinade the chicken in Sweet Baby Ray's Buffalo Chicken marinade OR you can bread it with buffalo pretzel thins (see my recipe here).  Use Bolthouse yogurt Blue Cheese dressing and add chopped celery to your salad.
5.       Chef Salad. For protein in this salad, I either marinade chicken in balsamic dressing, or I simply cut up whatever lunchmeat we have on hand. Amazing tip for hard boiled eggs: bake them in the oven at 300 for 30 minutes! They turn out perfect every time (unless you forget about them….long story!).  To the chopped salad, I add tomatoes, red onion, 1 hardboiled egg, ½ chopped avocado, ¼ cup of shredded cheese and croutons.  For dressing, I like Bolthouse yogurt ranch.

I hope I've given you some fresh ideas!  Play around with different dressings and spices and you'll be amazed at what you can come up with!  I like to wait until there is a sale on McCormick spices or Kraft dressings to stock up.  Usually they can be found for under $1 during a sale!
Subscribe to blog via RSS