| | | | | |
| --- | --- | --- | --- | --- |
| | | | | |
Since Earth Day was this week, I thought I would share a super easy recycling craft for your kids! I made these necklaces when I was a kid and they were the favorite craft to do when I used to Nanny. What I love is that you have all of the supplies laying around the house…no need for a trip to Michael's. PS- Have you ever taken your kids to a craft store? OY! Total nightmare!
These beads are great for all ages! My youngest, Gabby, is 2 and she needs a little help from me—but she is getting the hang of it! I have a feeling I'll be getting a few magazine bead necklaces for Mother's Day (Grandmas will too!). Each bead is different since all of the magazine pages have a variety of colors and they don't have to be perfect. Stringing the beads helps with dexterity and hand eye coordination. It's a learning craft in disguise!
You can add other beads along with these, such as alphabet or plastic. As for string, we like hemp, yarn or plastic varieties…but whatever you have laying around the house will work! I do recommend having the adult cut out the triangles for the beads for kids under 10.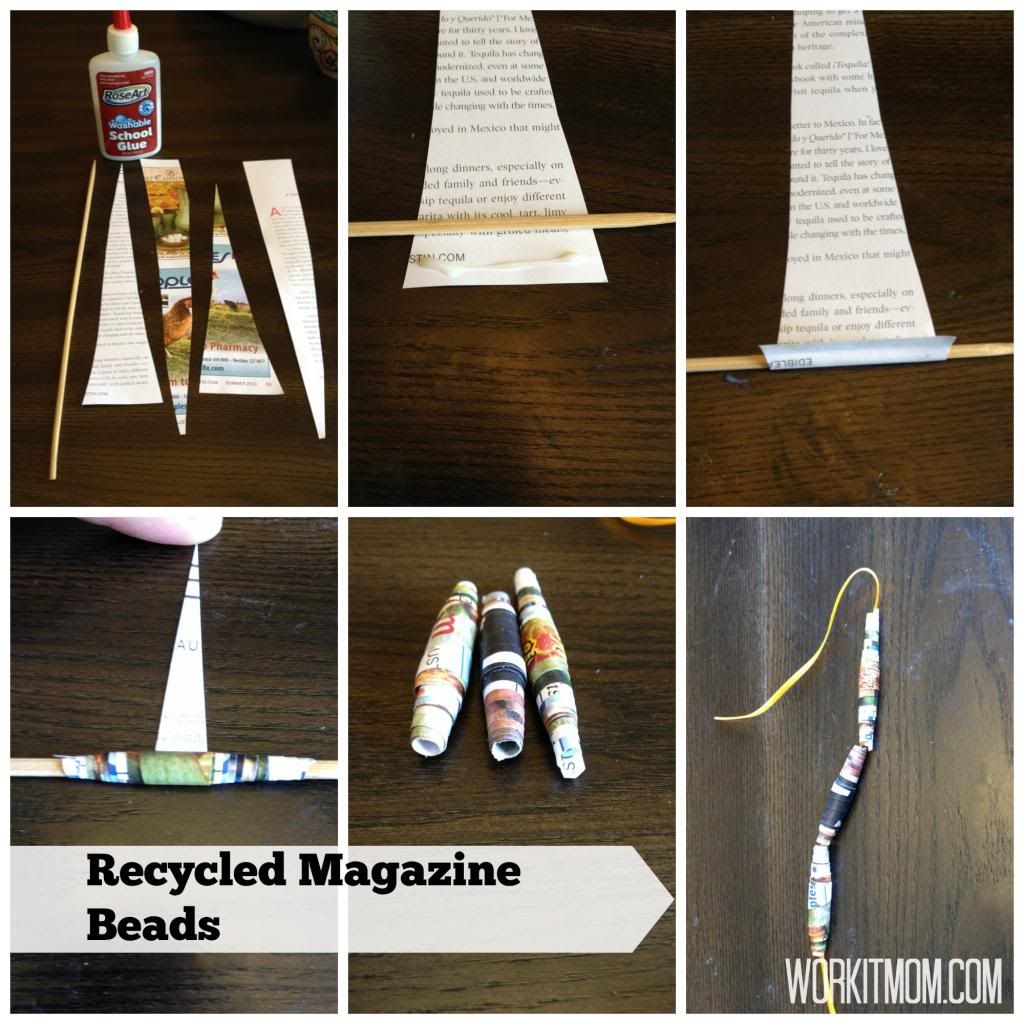 Recycled Magazine Beads
Here's what you will need:
· Old magazines, newspaper or Sunday ads
· Scissors
· Glue
· Wooden skewer or plastic straw
1. To start, I rip out 10-15 magazine pages and cut out triangle strips. The base should be between 1-2 inches and they don't have to be perfect! If you want tiny beads, make them ½ inch, but they are a LOT harder for the kids to roll up.
2. Take a triangle strip and put glue on the very end. Put skewer below the glue and fold over. This is the base of the bead.
3. Roll the bead around the skewer until 1 inch is left. Dab more glue on the underside of the remaining paper and roll up. You might have to twirl the bead a bit to keep the ends down.
4. Ta-da! You're done! Remove from skewer before the glue dries! These can be made quickly and are fun to do on a movie night!
Note: when you're looking for pages to rip out, try a variety of colors. I even like plain print pages for cute black and white beads. I actually got a compliment on one of my magazine necklaces, someone asked me where I bought it. My twins were proud! (Note to self: future business endeavor?)
What crafts do you make from recycled goods?
Subscribe to blog via RSS