| | | | | |
| --- | --- | --- | --- | --- |
| | | | | |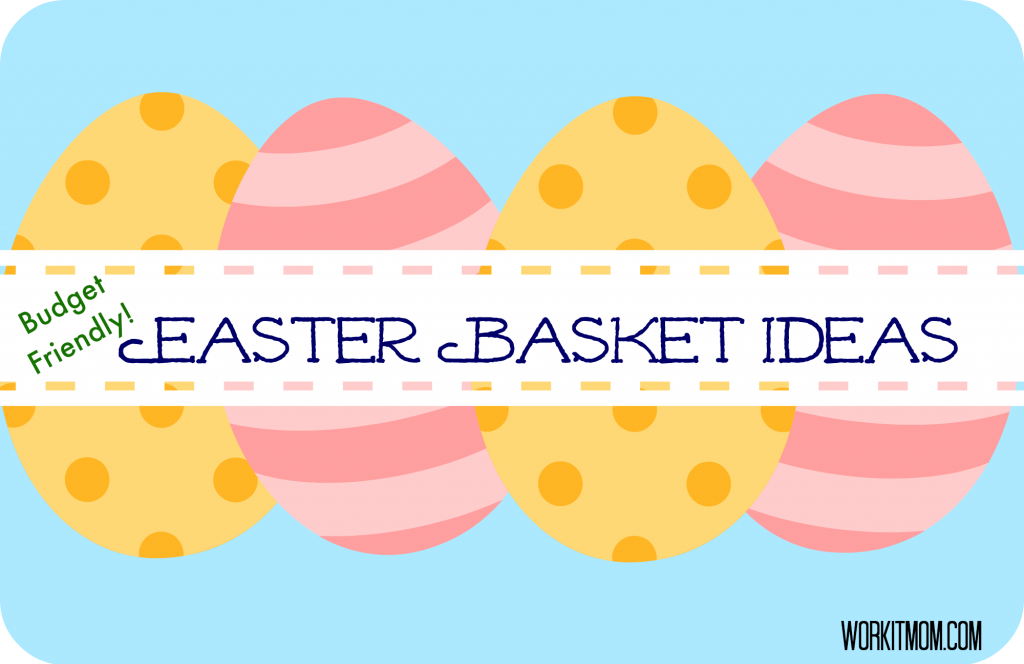 Anyone else having a holiday burn out? I feel like every time I turn around, there is a new holiday to celebrate and the marketing makes kids expect gifts. I believe the focus on Easter should be around the meaning of the holiday and family, not all about a large bunny.
Since my kids are at prime Easter Bunny age, we will do baskets…but we are taking it down a notch. Does that make us mean parents?
Here are a few simple ideas for baskets that the kids will still love. I find that themes help make shopping easier!
1. Art Box (or basket). Fill up each basket with art supplies from the Dollar Store. Another great place to check: clearance from Michael's! We find stickers and supplies for fewer than 50 cents! Focus on spending $5-10 for each basket and grab a big floor pad of paper. This will keep them occupied for hours! Think glitter, stamps, markers, crayons, googly eyes, beads, string…anything can be used for creativity!
2. Outside fun. Jump ropes, chalk, hula hoops, soccer balls…anything to keep them active outside! The Dollar Tree has fun cones than you can set up to run around for relays. FYI: Did you know you can order from the Dollar Tree online and pick up in store?
3. Gift Cards. I realize it's not very exciting to open, but kids LOVE to pick things out for themselves. Get a $5 one for a book store and $5 for Target, or whatever might be exciting. Pick a day and make a special trip for the kids…even consider going out for lunch!
4. Family Memory Cards. Make cards out for special family events that the kids can "cash in". For instance, one card can say "Trip to the Zoo" or "Library Story Hour". Other ideas: "Trip to Famers Market + $5 to spend", "Trip to Grandma + Grandpa's" or "Trip for Ice Cream Cones"! Create 5-7 different cards and decorate them with glitter.
5. Movie Basket. Buy 2-3 $5 movies at Target (Heads up: they are buy 2, get 1 this week!) and fill the basket with fun movie night ingredients: box of candy, popcorn, etc. If you want to spend a bit more, throw in a new pair of pajamas. Make a card that lets them pick the pizza toppings of choice for a homemade pizza. (Want an amazing pizza crust recipe? Check this one out!)
6. Camp or Class Ticket. If your child is interested in a new ballet class or sports camp for the summer, consider creating a "ticket" for the class as an Easter gift.
Whatever you chose, keep it simple. I really love the ideas that create memories, instead of more clutter. The last thing our kids need is more toys to trip over!
What simple basket ideas do you have?
Subscribe to blog via RSS