| | | | | |
| --- | --- | --- | --- | --- |
| | | | | |


Since I've had kids, my beauty routine has drastically changed. Don't you hate how that happens? I looked down yesterday and realized I was in dire need of a pedi, my eyebrows were crazy and only one of my legs was shaved last shower because chaos happened outside the shower curtain (why can't the kids give me a 10 minute shower?! I put on Frozen!). Um, gross. Why is it so hard for us to take time for ourselves?!
I turned 30 in January and one of my goals was to get back on track by taking better care of myself. Obviously, it's a work in progress, but I'm making huge steps! Since February, I've been working out 3-4 days a week, tracking all of my food using the MyFitnessPal and eating less cookie dough (I have an addiction, sir!).
Most of us are short on time, so I have some Mom beauty must-haves that are budget friendly AND easy to use! As Heather says on Real Housewives of NYC " Hollllla!".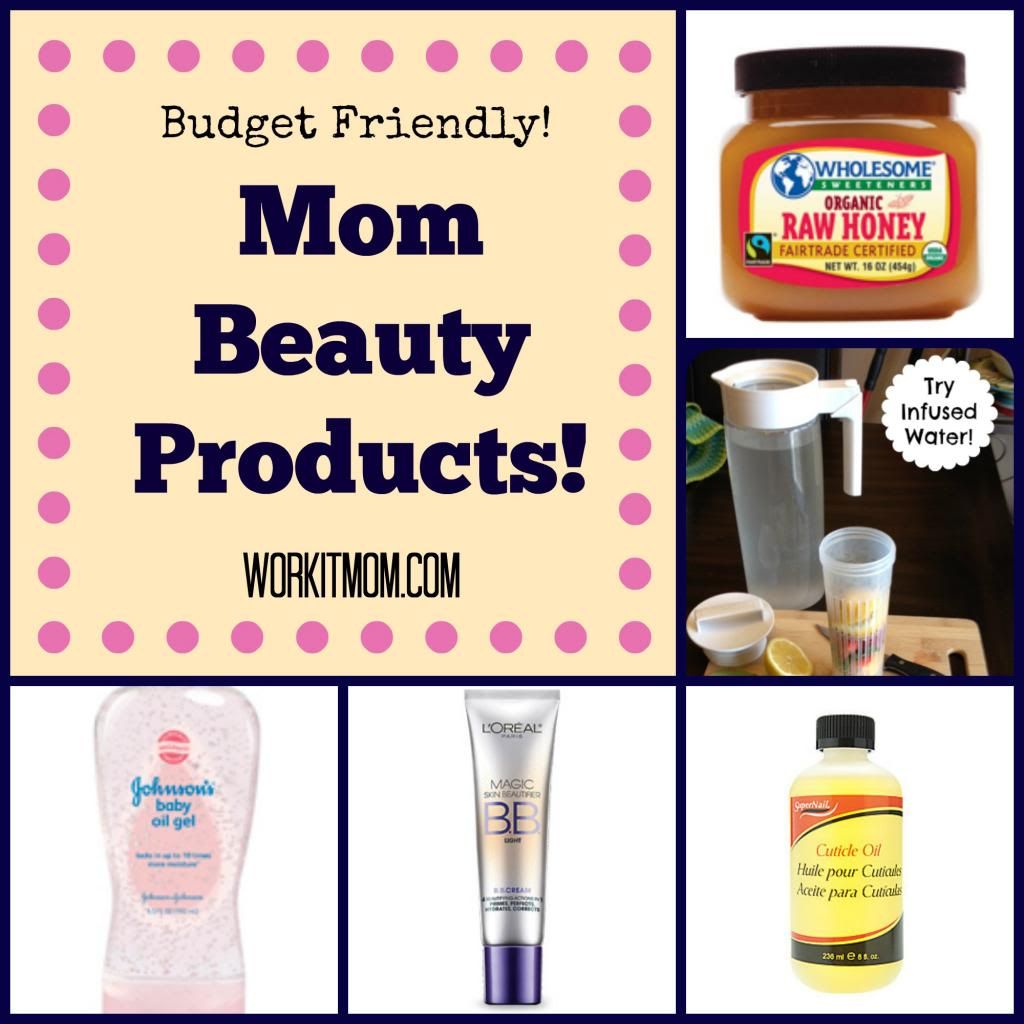 1. BB Cream. If you are short on time, BB cream is your go-to for awake looking skin. I wash my face and slather this on and I look halfway decent. I've tried quite a few varieties, but I have 3 favorites:
· L'Oreal Magic Skin Beautifier BB Cream. If you have combo skin, this is perfect! Some BB creams can be oily, but this is really light. It will match to your skin perfectly too! There are always coupons for this, I usually pay around $6!
· Garnier BB Cream. If you have dry skin, this is for you! I use it in the winter, but it's a bit oily for my summer needs. Garnier has different types of BB Cream, depending on skin type but I have found all of them to be quite moisturizing. If you have super oily skin, you might want to stick with the L'Oreal version. There are always coupons for this as well, it's usually around $8.
· Almay Smart Shade CC. Wait for a sale at Walgreens, and you can get this for under $10! I love this for a bit more coverage. It's light and pairs well with powder. There were $4 off coupons in last Sunday's paper!
2. Cuticle Oil. I use this before bed and put it all over my nails. Even if you don't have time for polish, your nails and cuticles will look amazing. Just use with a q-tip and let dry for a minute or two. This also works OVER polish. I get this at Sally Beauty Supply for around $3.
3. Baby Oil Gel. Say buh-bye to dry skin by adding this to your lotion. Works best right after your shower! I usually focus on my legs and extra dry areas, like elbows. The lavender adds a slight scent. My kids use this gel too!
4. Quick exfoliating face mask. This is my go-to mask: 2 teaspoons honey, 1 teaspoon cinnamon, 1 teaspoon nutmeg. So simple! It exfoliates and helps smooth out skin. Aim for at least once per week! I mix it up and put it on while I'm making dinner. Leave it on for 20 minutes and wipe off with a washcloth.
5. WATER! The best beauty tip for busy moms? DRINK THAT WATER! It will help keep your skin glowing! If you're not a fan of plain water, make infused water with lemon, mint, strawberries, watermelon, cucumbers or whatever floats your boat! Green tea is great too! I always carry a 24 ounce water bottle with me and I make sure to drink at least 8 ounces before each meal.
What are your go-to beauty products?
Subscribe to blog via RSS