| | | | | |
| --- | --- | --- | --- | --- |
| | | | | |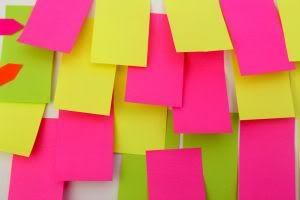 There are three ways of getting things done:
1.  Procrastinating until the last minute.  Deadlines are motivating.
2.  Sucking it up and just doing it.  Pain works!
3.  Perfect planning, organization, and execution.
[If you are #3 I don't want to talk to you.  You are clearly a robot.  You can leave now.  Go!  Shoo!]
There, we're alone now and we can talk.  I'm not a fan of pain, are you?  I hate making myself do stuff I don't wanna.  It's so much easier to pretend it's not there as long as possible … and then do it.  You know, after I've let it hang over my head awhile, making me crazy.  I'm funny that way.
While the just-get-it-over-with approach has some merit, I'm proposing that instead we find ways to make procrastination work.  Here's how:
1.  Procrastination lets you perfect the project without actually working on it.
I do a good part of my writing in my head.  I write a monthly column, and the two weeks before deadline are mostly spent letting the column write itself in my head.  I think about it in odd moments, knowing it's working in the background, and then it's easy enough to download when I'm actually ready to write (the day before deadline).
2.  Procrastination is good for the soul.
Used to the pain-reward approach?  Why not take your reward now instead?  If you're used to just sucking it up and crossing the yucky tasks off your list first so you can reward yourself later with something enjoyable, mix it up once in awhile and do what you love first. It feels deliciously naughty, like eating dessert before dinner.  Or instead of dinner.
3.  Procrastination gives you a new perspective.
Often by waiting on something we end up looking at it much differently than we might have if we just plowed ahead and did it straight away.  Ever have project remorse?  Kick yourself afterward about all the ways you might have/could have done something better/different?  Procrastinating ends all that.  When you're not in a hurry you allow things to ferment naturally, developing new flavors and textures that wouldn't have occurred if you rushed it.
To make procrastination truly work for you, you need to give yourself permission to let go.  Letting something hang over your head to haunt your every waking moment is not the same as letting go temporarily.  Plus it'll make you crazy, and do you really need more crazy?  Readjusting your priorities and allowing yourself to create new paradigms of productivity is a good thing.  Trust me.
Now go do something fun.  Tell them I said so.
Are you a just-do-it or a procrastinator?  How do you find balance in getting things done?
Subscribe to blog via RSS