I'm Talyaa, the poster child for the concept that there's no one right way to be a parent. I went from stay-at-home attachment-parenting mom of four to being the non-custodial parent, working as a professional writer and channel-psychic. Let's talk about throwing away the parenting manual and exploding the myths and mystique of motherhood!

Check out my personal blog at Juxtapositioning.
| | | | | |
| --- | --- | --- | --- | --- |
| | | | | |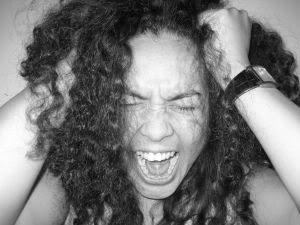 Watch the news much?  Had a look at your bank account lately, your 401K statement, prices at the grocery store?
The past few weeks have been super-intense.  We're worried about the housing situation, the election, gas prices that are lower but still too high.  We look at our kids and wonder what sort of world they'll be growing up in.
It's enough to make you start totally freaking out.  Hyperventilating.  Panicking.
Sound familiar?  Here's what to do next time this happens, AND what to do to prevent a future freak-out as well:
1.  Turn off and unplug.
Turn off the TV.  Step away from the laptop.  Cease and desist looking at email, Twitter, Facebook, or ANYTHING on a screen.  This goes for NPR, too.  No media.  Turn it ALL off.
If the sight of Sarah Palin makes you cringe, stop looking (however, if the sight of Tina Fey as Sarah Palin makes you laugh, this is enouraged).  Just like when passing by the scene of an accident, when there's something horrible on, we're compelled to watch it.  It's like being sucked into a huge magnet.  So don't give yourself the opportunity.  Turn it off and give yourself a rest from media for awhile.  It will still be there when you get back.  The world will not disappear because you are not there to watch it.
2.  Reconnect.
Look at your kids.  See their faces?  THAT'S what's important to you.  Go hug them.  REALLY be present with them.  Do something special, even if it's just letting them stay up 20 minutes later tonight because you're reading a story or playing that board game you all love so much but never get out anymore because the TV's on or someone is playing Wii, or, or, or…
Don't forget your partner.  Toast one another with a glass of apple juice.  Make silly faces.  Remember why you're in love.
3.  Reach out.
Bake something delicious and take it to a neighbor you haven't seen for awhile.  Look your cashier in the eye with appreciation when you're buying milk.  Call a bunch of friends and plan a night out.  Connect with people.   Reach out to them and remember that you're all connected, that you're all a community, that you're all wonderfully human.
4.  Reach in.
Remember that delicious something you baked for your neighbor?  I hope you made some for yourself.  If you didn't, then treat yourself to a little something special.  New pair of earrings?  Check.  A bubble bath?  That'll do wonderfully.  Thirty minutes of silence?  Now you're talking!
Ahhhhh.
Do something good for yourself.  Pick one little thing and just do it.  It doesn't have to be any big deal, just something a little out of the ordinary.
And, if you do these things regularly, you'll stay better connected with who you are in the future.  You won't be so knocked off balance when things go awry.  And next time you're faced with real freak-out material, you'll be able to take a nice deep breath and FEEL that gorgeous strong person inside you, the one that knows that things really do turn out okay, somehow.  They really do.
Subscribe to blog via RSS
Check out our popular Q&A area to ask questions and search for answers.
Check out our favorite quick and easy recipes, perfect for busy moms.
Check out our daily picks for affordable luxuries for you and your family.