| | | | | |
| --- | --- | --- | --- | --- |
| | | | | |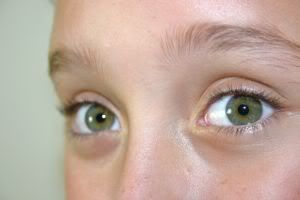 Yesterday I got some advice: act like my 9 year-old daughter for a day. All day, channeling Serena.
Um. I'm not sure I can do it. She's very different from me. When she's hurt, you know it (so does the whole neighborhood). Me, I keep mine inside, or I try to. After all, how many of us are comfortable showing our inner pain in front of our kids?
And when Serena's happy, you know that, too. Her whole body bounces, her eyes shoot sparkling diamonds, and the very air reverberates with her happiness. Me, happy? Hahaha. (I blog it).
But the thing I love most about Serena? Is that she speaks her mind. Doesn't hold back. She's completely honest and up front. And I so love that!
Most kids have that quality, at least until they unlearn it from the social cues we give them. Who among us hasn't been at least slightly embarrassed when our outspoken inquisitive preschooler stage-whispers questions like  "Mommy, why does that man only have one arm?" at the grocery store only a few feet away from the One-Armed Man himself?
It's refreshing, yet we're not 100% good with it. It's pretty clear the guy has only one arm. He knows it, anyone who can see him knows it, Captain Obvious knows it. It's out there, the elephant in the room, so why not just … say it?
Oh yeah, I remember. It's "not polite" to stare, or notice, or to point out the obvious.
All that — that outspokenness, that utter non-attachment to certain social parameters that bind us — is what I want to bring. For a day. Say everything on my mind. Be REALLY BIG about it, and let the whole neighborhood know (well, maybe not that last part … I do have to live here … ). Be Serena for a day.
Oh sure, plenty of people speak their minds. We're not all bound by over-exuberant social convention. I know people who think nothing of walking on people's lawns — gasp! — instead of on the sidewalk, for instance. But thanks to MY mom, I have a strict and very specific model of what it is like to be an adult, a grownup, a mother.
I'm looking to my kid to help me reach outside that box.
Which leads me to my question for you: name a quality that your kids possess that you want to be for a day. One thing. Anything. What would it be?
(Bonus points: if they made a movie of your kid-for-a-day experience (it's been done before. Twice), what would they call it?)
Subscribe to blog via RSS