I'm Talyaa, the poster child for the concept that there's no one right way to be a parent. I went from stay-at-home attachment-parenting mom of four to being the non-custodial parent, working as a professional writer and channel-psychic. Let's talk about throwing away the parenting manual and exploding the myths and mystique of motherhood!

Check out my personal blog at Juxtapositioning.
| | | | | |
| --- | --- | --- | --- | --- |
| | | | | |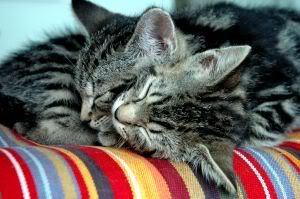 A hundred or so years ago, this wouldn't even have been a question. Children, if they had a separate room at all, shared it with whatever other children were in the family, regardless of age or gender.
When my older son turned about 9, he started bathing alone instead of with his sister, then 5. That seemed about right to me, and he led the way with the decision. They still shared a room (bunk beds rule!). One of my favorite things then was to overhear their early-morning whisperings via the baby monitor still in their room to alert me to the late-night stylings of Night Terror Boy or Hypochondriac Girl. (I had yet another kid in my bed then so it wasn't like I was getting off scot-free anyway.)
A year later, we moved, everything changed, and Boy and Girl got their own rooms.  (A year after that I was campaigning to move Smaller Boy into Girl's room and out of mine … we ended up agreeing he could sleep on a bed we made there on the floor every night but that the room was still in essence Hers, and woe be to any Smaller Boy who tried touching anything in there!)
New homes are trending smaller, which is good news.  We don't need sixty bedrooms, a 5-car garage, a Designated Media Room, and a 30-foot kitchen.
But smaller homes means fewer bedrooms.  Which means kids are going to be sharing.  All kids.  I can see it now.
After doing considerable research, which involved reading this Babycenter post from a zillion years ago (it's from 2002, which is a zillion years ago in blog years) which has approximately 80 hundred kajillion comments, I've discovered that the demographic is going to split like this:
A. [shrug] No big deal. We were 8 kids to a bed. It was great. I'd do it again in a heartbeat.
B. OMGOMGOMG! This is EVIL! Hanky-panky! It's just … WRONG!
C. Meh. Not my choice, and I don't mind what YOU do, but … I'll think about this later.
Mostly leaning toward A.  I was kind of surprised.  I thought we were more judgmental/fearful than that. Yay for us!
So what about you? Do you have kids that share? How's it working out? Would you downsize to smaller/cheaper digs if it meant your kids would have to start sharing? Has the number-of-bedrooms thing kept you from having another child? And are you scarred for life, er, the wonderful person you are today, from sharing a room when you were a kid?
Subscribe to blog via RSS
Check out our popular Q&A area to ask questions and search for answers.
Check out our favorite quick and easy recipes, perfect for busy moms.
Check out our daily picks for affordable luxuries for you and your family.