I'm Talyaa, the poster child for the concept that there's no one right way to be a parent. I went from stay-at-home attachment-parenting mom of four to being the non-custodial parent, working as a professional writer and channel-psychic. Let's talk about throwing away the parenting manual and exploding the myths and mystique of motherhood!

Check out my personal blog at Juxtapositioning.
| | | | | |
| --- | --- | --- | --- | --- |
| | | | | |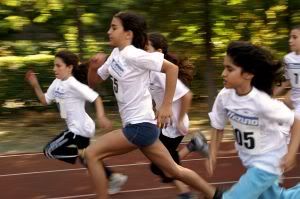 Welcome to Bad Parents Anonymous. We'll go around the room — please introduce yourself.
Hi, I'm Karen and I'm a bad mom.
Hi Karen.
I … [choke] … have competitive kids.
[shocked gasp]
I don't know what it is, I mean, I played an old record of "Free To be You and Me" to them every day when they were babies. We only own non-competitive board games. Nobody wins. Nobody loses. It's supposed to make kids happier, right? But they make a competition out of everything. Faster! More! Better! Who can stuff more raisins up their nose? BING! We have a winner. Who can whine the loudest? BING! We have a winner. And who cares about the stupid Snail Race game — WHO CAN THROW THEIR SNAIL THE FARTHEST?
Where did these kids come from, anyway? What did I do wroooong?!!
Yes. Well. Let's step away from the sad mommies and daddies at Bad Parents Anonymous and talk about this. Who here has competitive kids? Raise your hand.
Huh. That's all of you.
Should I just ask, Who here has kids who are breathing? Because in my [cough] vast experience, all kids are competitive. (Except for my five-year old, but he has special dispensation. Also he pretty much knows he's half their size and a quarter of their speed, and it's all still out of his league. I give him a few more years and he'll be throwing snails with the others.)
The question is, Should we be worried about this?
A couple of schools of thought:
1. No worries. Competition is healthy. Keeps 'em on their toes. Makes them better students, better employees. You have to compete to keep up in this world! Nobody loves a loser.

2. Bad, bad, bad! Competing harms little psyches. Makes kids feel inadequate. Breeds low self-esteem. Take away the winners and losers and give EVERYONE a star!
Yikes, I don't like either one of those, do you? Here's what I think:  I think kids naturally look to find their place within a group. They judge and compare — where do I fit in? This comes out through what we see as being competitive. If there are siblings, guess who they compete with? Competition is natural.
What about you — do you encourage competitiveness in your house? Do you just barely tolerate it? Or is "competition" a bad word? Where do you stand on kids competing with one another?
(I put earplugs in and let the fur fly as long as I can stand it, but draw the line at actual blood.)
Subscribe to blog via RSS
Check out our popular Q&A area to ask questions and search for answers.
Check out our favorite quick and easy recipes, perfect for busy moms.
Check out our daily picks for affordable luxuries for you and your family.