| | | | | |
| --- | --- | --- | --- | --- |
| | | | | |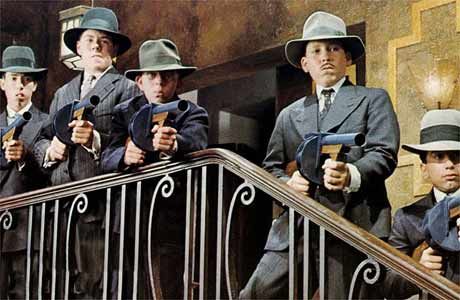 I was appalled to read the story of Zachary Christie, the Newark, Delaware first-grader who was suspended last week for bringing his Cub Scout spork-type utensil to school so he could use it to eat his lunch.
A six-year old Cub Scout, who frequently wears a shirt and tie to school because it's a way to express his excitement about being there, is now suspended and sentenced to reform school for 45 days while his mom scrambles to provide a homeschooling alternative. All because he was excited over his new combination fork-knife-spoon and wanted to use it at school.
Zero-tolerance weapons policies have been established in schools all over the U.S., set in place to protect kids in large part as backlash from the Columbine and Virginia Tech shootings. Guns don't belong in schools, and I think we can all agree on this.
But what's disturbing is the lack of discretion. Is a spork-knife utensil wielded by a six-year-old the same as a semi-automatic rifle? To school officials, the answer is increasingly "yes."
The whole thing smacks of the fear culture we've become caught in. We're afraid to let our kids walk to school because we just know there's a dark-windowed minivan lurking out there, ready to snatch our kids up after luring them over with pleas to help find lost pets. Kids playing outside? Same thing — unless they're in a fenced back yard, chances are our kids don't go outside alone. And I won't even get into the whole crazy Swine Flu hysteria.
But I'm worried about the message we send our kids when they have to walk through a metal detector every day to get to school, and when a cherished pocketknife handed down from a grandparent brought to school for Show and Tell is treated the same way as a weapon wielded by a disturbed individual bent on hurting people. How are our kids going to understand what's "good" and what's "bad" if we treat them both the same way and paint them all with the same broad brush of fear?
There are two schools of thought here:
1. Zero-tolerance rules, taken to this extreme, are asinine. School administrators should be able to tell the difference in intent and adjust punishment accordingly. This kid wasn't going to knife anybody — couldn't a teacher just have confiscated the thing and sent it back home at the end of the day with a note to his mom?
2. Rules are rules. The kid broke the rules. He shouldn't have brought a knife to school and his mom should have known better. There's too much violence in schools anyway.
Where do you stand on zero-tolerance in your child's school? Are we keeping our kids safe or have we gone too far?

Subscribe to blog via RSS