| | | | | |
| --- | --- | --- | --- | --- |
| | | | | |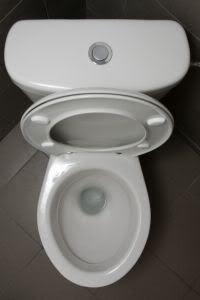 It happens all the time, even with careful planning. Someday, somewhere, one of your kids is going to need to use a public bathroom and only the opposite-gender parent is going to be available to accompany.
You know what I'm talking about. Your son in the ladies' room with you. Your daughter in the men's room with her daddy. It happens. But how do we feel about it?
My daughter, when she was 4 and 5, was frequently escorted to public restroom by her father. I was doing 24/7 nursing with her baby brother and Daddy was more than happy to assist his daughter in her time of need. I pretty much had to turn a blind eye to the whole routine and let go, but I remember being concerned with statements he made to me from time to time in an offhand way such as "men's toilets aren't all that clean." He had been changing her diaper in public bathroom on airplanes and in restaurants since she was small, and I trusted that he was keeping her from contact with dirty surfaces, but it never entered into my mind until I sat down to write this post that my daughter probably was confronted with the sight of urinating grown men.
I don't go into men's rooms all that often. You sort of forget about the urinals if it's not you who's using them.
My son was another matter. When he was about five he stopped accompanying me to the ladies' room and instead I'd stand guard outside the men's room and wait for him to come out. I hated it but it was fine, which was a good thing since at that age he often had to go every 10 minutes. You do what you have to do.
There are other options.
1.  Take your kid to the restroom of their own gender. Befriend someone of that gender to oversee your child's experience. In the end, your kid is safe and you've made a new friend. Hopefully.
2. Take your kid to the restroom of their own gender. Make a loud, grand announcement, clear the place out, and go in with your child.
3. Only patronize public places that have "family" restrooms. They're becoming increasingly common.
4. Don't leave your house if your child is between the ages of 3 and 8.
5. Pullups. Depends. Whatever holds it all in.
6. Men should be able to walk right into the ladies' room with their little girls. Use the handicapped stall (if you're breaking rules, you may as well break them all) where you both can fit. Anything ladies do in there is behind closed doors anyway, and what woman can resist a daddy-daughter moment? Pay no attention to the other women screaming or pelting you with their handbags.
7. I personally don't mind other people's little boys in the ladies' room, but I draw the line at the ones who peer under the stalls.
Lisa Belkin at The New York Times' Motherlode blog had the same question: how do you handle this in your family?
Subscribe to blog via RSS