| | | | | |
| --- | --- | --- | --- | --- |
| | | | | |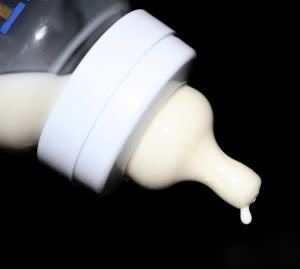 By now you've heard the news of what was cleverly hidden among the voluminous folds of the recent health care bill: working nursing moms get a break at work. To be specific, they get a break ROOM; that is, a place that's not a bathroom, where they can pump in private. Yay?
One halfhearted hurrah from me. Gimme a B! And an O! Another O! And another B! Gimme an S! … oh well.
While this is most definitely a step up from having to pump in a cramped (and, *cough*, spotless) bathroom stall or, worse, have no privacy at all, and I have to applaud the fact that maybe this will keep some moms who want to breastfeed nursing longer, it still begs a very important question:
Why don't U.S. mothers get paid maternity leave?
You want to see something that will blow your mind? Have a peek at these worldwide parental leave charts. I'm stunned. Practically every other country in the world gives mothers 12 weeks or more of paid parental leave. Paid! Even countries not known for human rights like, say, Myanmar. Yep, even Myanmar (used to be Burma, just remember Burma) gives 12 weeks paid leave at 2/3 pay. Rwanda. Uganda. Somalia. Nicaragua. United Arab Emirates. Vietnam! All give leave, paid leave. Most at 100% of pay. United States? A big fat zero. And Canada, you don't even want to know about Canada. In Canada, you could potentially squeeze out nearly a year, as long as Dad wanted to share his time. Granted the money isn't fantastic, but it's something.
All we have is a space that's not a bathroom.
I mean, yay and all, but jeez. Oh, and all this means nothing if you work for a company with fewer than 50 employees, since your employer can claim "undue hardship" and refuse to make a pump space available. Tough tatas on that one.
And the sad part is, we're all for breastfeeding, for the most part. We nurse one another's babies in times of need. We have nurse-ins. We fight to not get kicked out of Target or off of Facebook. We even go so far as to shame one another for making a non-breastfeeding choice (we are one weird culture when it comes down to it, aren't we?).
I was a dismal failure at pumping, and this was in my own home under almost zero pressure. I cannot even fathom having to find a place to do it in the workplace, let alone the time (have we even discussed actual breaks to make this happen, or are we pumping while eating our sandwiches in the bathroom?) Huge wet smacky kisses and kudos to the moms who persevere. I knew a mom once whose baby couldn't actually nurse from her breast, but mom pumped for nearly a year and they fed from a bottle. And where that story came from, I know there are a ton more.
All you pumping working moms have my utmost respect.
Did you pump at work? How did you make it work for you? Would you do it again? Do you think the new rule makes a difference?
Bonus question if you're currently pregnant and planning to breastfeed: Do you want to move to Canada now?
Subscribe to blog via RSS