| | | | | |
| --- | --- | --- | --- | --- |
| | | | | |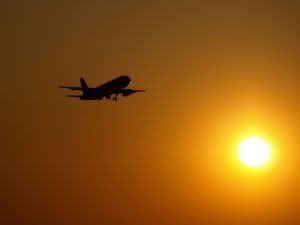 Two of my kids are flying — alone — across the country today. Flying alone with a change of planes usually isn't a big deal for kids flying unaccompanied, because airlines insist that (for a fee) an airline employee take most kids to their next gate and make sure they get on the plane. But my kids are flying standby (their dad's a pilot), which doesn't guarantee two seats together for my two (14 and 10) and doesn't actually guarantee any seats at all.
I'm about 85% okay with this, for a lot of reasons: they are seasoned travelers; they'll be equipped with a cell phone for emergencies; they've been prepped with what to do if they get stuck at DFW; they did this once before; and last but not least, it's what they need to do for us to see one another this summer.
I'm 15% not okay because, well, I'm a mom. I worry about things. Things happen in the wacky world of air travel. Kids get sent to the wrong destination. Or they're forgotten, stranded.
Even though I'm only 85% convinced that my kids flying alone is a good idea (you never know when that plane is going to just fall right out of the sky — as improbable as it is, that remote possibility is a big part of my 15%) I was surprised how many parents voice vociferous concern about kids flying alone. ANY kids; theirs, mine, and especially yours.
Like these:
You have got to be kidding!! I would never in a million years allow my children to travel without an adult.
I'd be half out of mind with worry wondering if they had safely reached their destination, and that a family member was there at the gate to receive them — with all the flight delays and gate changes that so often occur. No. I would not allow it.
How many times have we heard on the news of kids being snatched traveling on a plane alone?
(Um, what? Did I miss something? Kids snatched from AIRPLANES?)
My favorite, though, was this one on another forum responding to a query about the wisdom of siblings age 11 and 5 flying together, from a person who clearly prefers an all-adult airplane and maybe took a few swigs of a double-shot Sarcasticini before commenting:
How nice for all the surrounding passengers that they get to parent your FIVE year old for free on a flight, and/or frustratedly listen to your kids squabble and/or cause problems with no recourse.
In all my years of flying, I have seen a lot of kids flying solo. For the most part, they sat quietly, chatting with seat-neighbors, or kept to themselves. The out-of-control ones were always with parents. Huh. (That last is a numbers game — way more kids fly with family than do alone — but still.)
Would you allow your child to fly solo? Have you already? At what age? Do you object to solo-flying kids being in your vicinity when you fly?
photo: Turek, Stock Xchng
Subscribe to blog via RSS