I'm Talyaa, the poster child for the concept that there's no one right way to be a parent. I went from stay-at-home attachment-parenting mom of four to being the non-custodial parent, working as a professional writer and channel-psychic. Let's talk about throwing away the parenting manual and exploding the myths and mystique of motherhood!

Check out my personal blog at Juxtapositioning.
| | | | | |
| --- | --- | --- | --- | --- |
| | | | | |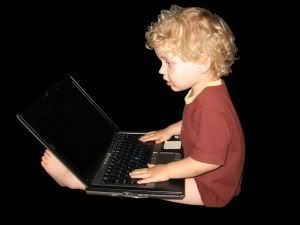 I type that headline, "Right age for a first laptop computer," and suddenly my head is swimming with images of toddlers hurling banana-and-Cheerio-encrusted Macbook Pros off high chairs, and I cringe. But only a little. Because my baby needs a laptop.
Here's the deal. Serena is eleven. She is already planning what her Middle School Experience will be like, which in her district is next year. Sixth grade. (omg, my baybeeeee….). And she has both me and her dad convinced that in middle school, a computer is de rigueur. Which may or may not be true. But I suspect she is right. It might rankle her older brother Nathaniel a little, who was the ripe old age of 12 when he received his first computer (a gift from me so we could stay in closer touch), but younger siblings almost always get privileges sooner than their older siblings. Right? That's how it was for me, which must have irked my older brother considerably, but I knew exactly how to employ it to my best advantage. Ahem. Not that your kids would do that.
So this has me wondering what other families do vis a vis kids and laptops. Middle school seems like a good time for my kids based on their needs. But I am kind of tech geeky and we have unusual communication needs. I realize that a laptop might be overkill for any kid at first, or a terrible time suck. It also depends on tech savviness and self discipline.
What about your family? When did your kids get their first computers, or when do you think you might get them one? Do you see a need at all? What are the pitfalls? Perks?
Subscribe to blog via RSS
Check out our popular Q&A area to ask questions and search for answers.
Check out our favorite quick and easy recipes, perfect for busy moms.
Check out our daily picks for affordable luxuries for you and your family.