I'm Talyaa, the poster child for the concept that there's no one right way to be a parent. I went from stay-at-home attachment-parenting mom of four to being the non-custodial parent, working as a professional writer and channel-psychic. Let's talk about throwing away the parenting manual and exploding the myths and mystique of motherhood!

Check out my personal blog at Juxtapositioning.
| | | | | |
| --- | --- | --- | --- | --- |
| | | | | |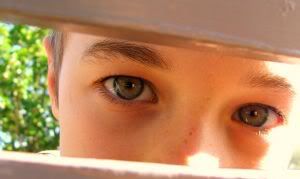 It's time we stopped trying to fix our shy kids. So what if they quietly sit on our laps at Mommy and Me classes? Those kids aren't detaching from the world or being swallowed up by the floor; they're being quietly observant, taking in and analyzing the world around them. Not to diss the extroverts happily parading around the room banging on drums, taking tigers by the tail, and generally being Awesome with a capital A, but shy introverted kids are overwhelmingly creative, informed, attentive and empathetic. In short, shy kids rock and it's time we understood their power to change the world for the better.
I was a shy kid. My kids were shy kids. I understand the shy thing from the inside out. Agreed, it is easy to go from "shy" and "introverted" (read: observant and attentive) to "socially paralyzed", but that's the job of us parents: to hold space for, guide, encourage, and love our shy kids so that they become secure in themselves and aware of their unique gifts and perspectives. By accepting our kids for who they are, we can help them accept themselves. By expanding our idea of how people should be — by making room for shy kids as well as drum-bangers — we make room for more individuality, more creativity, and ultimately more evolution as a species.
I'm not advocating that we turn our natural extroverts into introverts. I'm quite okay with the present 80/20 split (80% extroverts, 20% introverts). Extroverts create movement and take action. We need that. As a people we thrive on it. But we also need to love our creative side, our deep internal natures, and our humanity as empathetic beings. That's the gift our shy kids can give us.
Were you a shy kid? Do you have shy kids? What are the gifts and pitfalls of shyness in your world?
photo: jkingsbeer, SXC
Subscribe to blog via RSS
Check out our popular Q&A area to ask questions and search for answers.
Check out our favorite quick and easy recipes, perfect for busy moms.
Check out our daily picks for affordable luxuries for you and your family.