I'm Talyaa, the poster child for the concept that there's no one right way to be a parent. I went from stay-at-home attachment-parenting mom of four to being the non-custodial parent, working as a professional writer and channel-psychic. Let's talk about throwing away the parenting manual and exploding the myths and mystique of motherhood!

Check out my personal blog at Juxtapositioning.
| | | | | |
| --- | --- | --- | --- | --- |
| | | | | |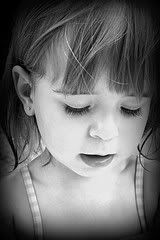 Just now I found myself singing "I'm a Little Teapot." I was alone. Well, no kids around. No excuse. It's not even a song I LIKE. In fact, it reminds me of Candyland, which seemed like such an awesome game when I was a kid (OMG! Candy Mountain! Now I'd rather repeatedly stab my eyeballs with a rusty fork than play it Ever. Again). But "I'm a Teapot"? It has never been my song. I was baffled by it in kindergarten. What were all these silly hand movements? Here is my handle? Why do I need a spout? WTF?!
All that teapot angst reminded me of how not a day went by, maybe not an hour, that I did not sing to my kids. Years of singing. Now my partner asks me frequently to sing to him, and when I do I remember how I figured out how to time singing "Edelweiss" in exactly one minute, because that was the only song that would make infant Serena stop crying. I kept myself from going mad by trying to sing it in exactly sixty seconds. Over and over, my plea to a colicky baby.
Last year I watched "Babies." Do you remember it? It is a gorgeous film. No dialog at all. Just long soft scenes of four babies, each from a different part of the world, each living very different lives. The babies in Africa were sung to. All day long.
Seeing that baby being sung to made me wonder about parents and babies. I sang to my kids because I like singing and I had some musical training. But in our culture we don't usually sing much except under certain circumstances: the start of baseball games; in church; maybe in times of stress or sorrow or coming together.
I suspect that our natural way is to sing more, and that maybe we have lost it or strayed from it. We are shy to sing in front of others. Or we never learned how.
Children sing. Babies sing. I think it's a natural way of expressing emotions. I feel happier when I sing more. Or I sing as an expression of the happiness I feel. Do you sing? Do you sing to your kids?
When she was younger, my mother had a beautiful voice. She had some opera training. I have a beautiful fond memory of her singing once to me when I was little. I remember feeling loved. Warm. Comforted. Safe. I have another memory of her from last December. She was struggling with Alzheimer's and we were singing together, trying to remember the words to "I'm a Little Teapot."
Subscribe to blog via RSS
Check out our popular Q&A area to ask questions and search for answers.
Check out our favorite quick and easy recipes, perfect for busy moms.
Check out our daily picks for affordable luxuries for you and your family.