I'm Talyaa, the poster child for the concept that there's no one right way to be a parent. I went from stay-at-home attachment-parenting mom of four to being the non-custodial parent, working as a professional writer and channel-psychic. Let's talk about throwing away the parenting manual and exploding the myths and mystique of motherhood!

Check out my personal blog at Juxtapositioning.
| | | | | |
| --- | --- | --- | --- | --- |
| | | | | |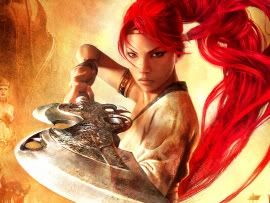 I am mad as hell and I'm not going to take it anymore. Know what I'm mad at? You. Well, not you. You, I like.. But I am mad at You, the larger You, or more specifically, We. We women. I am sick to death of women.
Oh, don't get me wrong. I love women. I love being a woman. But I am mad as hell about how we women are in the world.
I am dying for some seriously wonderful women's community. Remember the old days? Nah, I don't either. They happened way before you, or me, or any of us. But in my mind, the old days were awesome. Not about things like flush toilets, which, hello, I am so happy to be taking for granted, but more about things like how men and women were. Specifically, how they were with each other and with themselves. Remember that in your ancestor memory banks? When women gathered with women to do women-y things, while men gathered with men to do men things.
And we women were awesome. Powerful. Juicy. Alive. Fertile. The keepers of the flame. The growers of the seeds. We rocked. Remember that?
I do. And I think we can be that again. Which is why I am so mad now at what I see and feel in the women around me. Because we women rock, we really do. But we are so not living our potential. That's why I am angry.
Back in my 20's I discovered that a great many women bonded with one another by trashing their men. Ouch. This is when, in women's eyes and hearts, men became hopeless at changing a baby's diaper, for instance, or at cooking a meal without burning something. This kind of thing was fostered by a bunch of movies like Mr. Mom and Kramer vs. Kramer (really? ironing the grilled cheese? who does that?). Or nearly any TV show back to I Love Lucy and up to right this minute (if you want to rethink the dads-are-lame paradigm with a list of films where dads are awesome, look here). The trash talk took its toll.
Next is the competiveness thing. I think you know what I am talking about. We walk into a room filled with other women and we instantly check in to see how we stack up. This can't be a good thing.
And this. If we are strong, we are regarded as bitches. Or, worse, we ARE bitches.
We women can be so much more than someone trying to stack up in a man's world. What I have in mind to create for my daughter and for all our daughters is a world that honors women for the powerful, creative, vital force that we are. I am sick and tired of us women not being that. We have work to do to get there.
My contribution is creating a woman's circle where we explore the new paradigm of women. Women doing deep personal growth and sacred work. That's my piece because it speaks to my heart and fills my soul.
Each of us can make a piece that speaks to us and fills us. I am curious what your piece is if you have one. Are you, too, sick and tired of women as they were? Do you hope to help create women as they will be, for us and for our daughters and granddaughters? (Okay, those are loaded questions, but I can't help but think I am not the only woman who wants to create change.)
Subscribe to blog via RSS
Check out our popular Q&A area to ask questions and search for answers.
Check out our favorite quick and easy recipes, perfect for busy moms.
Check out our daily picks for affordable luxuries for you and your family.