I'm Talyaa, the poster child for the concept that there's no one right way to be a parent. I went from stay-at-home attachment-parenting mom of four to being the non-custodial parent, working as a professional writer and channel-psychic. Let's talk about throwing away the parenting manual and exploding the myths and mystique of motherhood!

Check out my personal blog at Juxtapositioning.
| | | | | |
| --- | --- | --- | --- | --- |
| | | | | |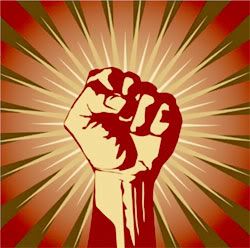 News flash: your kid is a budding activist and probably has plans to change the world. I'm not talking about the glint of Total World Domination, like tiny laser beams of MUAHAHAHA, that can be seen in every toddler's eye. Nope, once kids reach the age of 5 or so, suddenly they're all sparkly rainbow unicorns and hand-holding kumbayah. They see the world as a vast Playground of Awesome and they want to make sure we all live there. I really hope they succeed.
Examples:
Kony 2012. My 12-year-old daughter Serena IM'd me yesterday, "Have you seen Kony yet?" Kony 2012 is a 29 minute film made by the group Invisible Children to spread awareness of the plight of child soldiers in Uganda, and specifically to help publicize the actions of Joseph Kony, a Ugandan warlord, in the hopes of bringing him to justice. The video went massively viral, spread via Facebook, Twitter, and social media. Spread by our kids. I first saw it on my 16-year-old son's Facebook Timeline. Serena was deeply affected by watching it and wants to share her experience. Yay.
My kid's teenager friend, who learned about high gas prices in Europe, did the math and figured out that if prices were the same in the U.S. we'd be paying $10 a gallon. Then he researched ways to cut down on driving and posted them to Facebook and made a pledge to follow his own advice. Shame on any of us who think that teens don't care about their world.
The Girl Who Silenced the U.N. Severn Suzuki, environmental activist and daughter of Canadian environmentalist David Suzuki, was 12 when she gave a speech at the U.N. in 1992 and rendered her audience speechless for five minutes. Full text of her speech here. It still holds true today.
Kids Who Make a Difference. Kids all over are doing things to change the world.
When I was 12, I was more worried about what to do if a boy ever talked to me than I was about the plight of the starving children in China that my mother threatened to send my uneaten food to. Today's 12-year-olds think about global warming. GMO crops. Human trafficking.
They say the future belongs to our children. I say the future is already here.
What is your budding activist up to?
Subscribe to blog via RSS