| | | | | |
| --- | --- | --- | --- | --- |
| | | | | |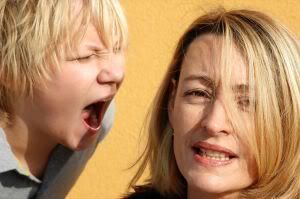 Until this school year, my younger daughter relied on her brother to be her friend, and had no friends of her own. That changed on the first day of third grade when she discovered her new BFF Nina—who also happened to live in the same neighborhood. What luck! Now they run in a pack of about 6 identical girls, very much a third-grade thing, and life couldn't be sweeter.
When I was preparing to visit my kids last month, my daughter couldn't wait for me to finally meet her friend. Her older brother was ominous. He IM'd me: you might not like her—she's not what you think. Uh, not what I think? I trust my daughter to make good friends; why wouldn't I?  But those words kept rolling around in my head, she's not what you think.
The visit came and went and the closest I got to Nina was waving and smiling through a car window. True, her appearance wasn't what I was expecting (is that what he meant?), but appearances mean so little. So she could be a total hellion and I'd never know. At 9 she was probably too young for lip piercing, and there were no visible tattoos, and she wasn't smoking. Check, check, check. But because I don't live with my kid I can overlook my daughter's new focus on trashy plastic toys, High School Musical, and the other trappings of a facet of third grade-hood I would prefer she miss.
But what if I had really hated Nina? What if it turned out that she was a horrible influence on my kid, sending her home with much more than new and unwelcome toy cravings, but instead with new and unwelcome words or new and unwelcome actions?
There are a lot of ways to approach this, but they boil down to one of these:
1. The Controller. Whatever you say goes. You're the parent so you control what comes into your house. Bad kid? He's outta here, end of story, goodbye. Oh, and don't let him slam the door when he goes.
2. The Fixer. Be the disciplinarian! Make that kid shape up! All the other moms will secretly thank you.
3. The Guilter. Use your kid as ammunition. Have looong talks with her about what is right and what isn't, tell her how much you trust her judgment, and then convince her to shame her friend into being less horrible. This method also works well to convert kids to vegetarianism (be sure to share what you know about factory farms).
4. The Gandhi. You're a closet bodhisatva, and everyone knows it. Your very presence makes people want to just be better. You know that everyone has that pearl of goodness within them, and you're betting that this kid does too. Just breathe…
5. The Ostrich. lalalala I can't hear you! What? Problem? There's no problem if I look the other way … lalalala!
6. The Blamer. It's all that other parent's fault! Clearly they are the bad ones. Let's shun them! Or, better yet, let's get the pitchforks!
Sigh. I think I've been all of these, but I lean toward lalalala. Which are you? Have anything else to share about kids you hate?
Subscribe to blog via RSS