| | | | | |
| --- | --- | --- | --- | --- |
| | | | | |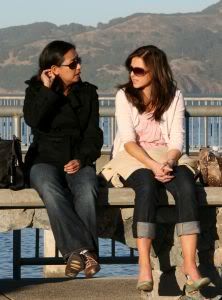 They say that having a baby will change your life forever, and after having four of them I have to agree. As a parent you find that you're living a life you never imagined before it actually happens. Handling poop, for instance. That was something I didn't expect, even though I was fairly certain that babies didn't hold it in for 18 years. It had to go somewhere. I just didn't realize how hands-on it was going to be.
Another change you can count on as a new parent is that within weeks after the new arrival, all of your old friends disintegrate and are reformed into a brand new circle of friends. Who all have kids. It's the Unspoken Rule of Parenthood: breeders and non-breeders can't be in the same room together without bloodshed and explosions. Like mixing ammonia and chlorine bleach.
As a mom, I accepted this. After all, how could I inflict new-parent talk on my child-free friends? They were all still hitting the bars at night while I was reading bedtime stories and thinking about preschools. Not to mention that my new bedtime of 9 pm made it awkward to party all night. Not that I had the energy. For me, it was more like potty all night.
I naturally gravitated toward people who had things in common with me. I was a stay-at-home mom, so my friends were mostly other stay-at-home moms. I met them at parent-child music classes, the park (with my kids), and at my children's school. For a time, having am occasional mommy playdate was my entire social life. I don't regret it, but I remember feeling I didn't have much in common then with adults who didn't have kids.
But does it have to be that way? My friend and former coworker Amy Kuras over at Strollerderby at Babble.com calls it "The Great Divide" and says that real friends can get over the child barrier — it's worked for her. Her commenters say otherwise. One particularly fun quote: "If you don't like children and dogs, whether you personally have them or not, we're not going to make it as friends."
Which begs the question — What is an adult friendship about, anyway? Anyone who only talks diapers, immunizations, baby milestones and Ferberizing is only going to bore whomever they're with, fellow parent or not. Likewise with the all-night partyers (sorry to stereotype childfree adults that way — it's just the extreme end of the spectrum). That stuff gets old if it's not your life.
Now I'm at the other end of the spectrum from where I was a few years ago: I'm a parent but my kids aren't living with me. My friends now are all sorts of people, parents and non-parents. It doesn't seem like a big deal. Is it?
The ideal adult friendship that spans the Child Divide would be one that does just that: child-free adults who like kids, and parents who don't make their kids the focus of absolutely everything, leaving time for adult friendships. Like the favorite aunt and uncle. Would that work in your life?
Are there child-free friends in your life? How do you find balance between parent and friend?
Subscribe to blog via RSS