| | | | | |
| --- | --- | --- | --- | --- |
| | | | | |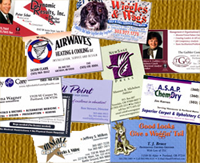 Between summer activities and work, I haven't had a lot of time to devote to business accoutrements, but after my last post I did buy a domain name, and design a preliminary business card. While perusing the internet I found some… unusual business cards. There were cards made of steel, chocolate, or leather. Cards that were die cuts, door hangers, and sculptures. Other cards had "colorful" profiles, bible verses, cartoons, or family photos printed on the backs. Some cards at had titles like: Director of Donut Freshness, Illustration Rock Star, Conversation Agent.
Some of the means and materials are borderline tacky, although I guess if you're a leather worker, a card made out of leather might be considered clever. But the content? I don't know if I'm just old and un-hip, or what, but those ideas make me cringe. I get that the aim is to be memorable, while living inside a wallet like George Constanza's, but it's gimmicky. I think my objection to that kind of content is that, to me, it seems presumptuous. It comes off as trying to be a little too chummy with the recipient of the card. (It's the equivalent of wearing flip-flops in the office.) Do you agree, or has my "hipness date" expired?
Now, while I'm not putting "Graphic Ninja" on my title line, or a mojito recipe on the back, I also don't want my business card to be the same as every other schmo. The design should be clean and eye catching. High contrast colors, a photo, or vertical layout can all make your card stand out, without shouting "used-car salesman" (the use of finger guns and winking while distributing your card is also discouraged).
I found some beautiful cards at Fave Up (it's flash, so I couldn't link directly– the business card tab is second from the left). There's also this post on making your business card unforgettable (although the guy's web page looks like crap, so naturally I take what he says with a grain of salt). Capture Card puts peel-off labels on the back of your card. Magnetic cards are on the line between useful and cheesy, but I have to admit my inner 8 year old likes them.
Maybe when I finish my business card I'll upload a picture of it. At this point I'm not giving myself a title, but maybe when my business is well established, I'll call myself Solver of Graphic Conundrums. Or not. If you were going to give yourself an original title, how would you describe what you do?
Subscribe to blog via RSS
Check out our popular Q&A area to ask questions and search for answers.
Check out our favorite quick and easy recipes, perfect for busy moms.
Check out our daily picks for affordable luxuries for you and your family.