The Working Closet is your source for the best of what's hip and fresh in fashion and beauty. Susan Wagner keeps you up-to-date on trends and offers tips and tricks for making everything in your closet truly work for you.

You can also catch Susan over at Working Closet.
| | | | | |
| --- | --- | --- | --- | --- |
| | | | | |
My office is casual casual casual (it's a small company in a creative industry, if that helps) and my personal style is much more conservative than the dress code requires. Typically 75-80% of the office wears denim five days of the week, managers included. How can I look put-together but not over-dressed, without having to wear the same chino pants and knit tee everyday for the rest of the summer? Or worse, resorting to wearing flip flops with dress pants?
When I got Julia's e-mail, I IMMEDIATELY shot back: "DO NOT WEAR FLIP FLOPS TO WORK. EVER." And to my great relief, she replied, "I would never wear them to work — I keep a pair of ballet flats in my work bag for driving to and from the office, and a pair of black heels from Target in my trunk (in case of any shoe emergencies). Flip flops are reserved for the beach and for getting the mail."
Amen, sister. And the inexpensive pumps in the trunk (or desk drawer) is a GREAT solution, by the way, to a whole variety of shoe situations. Nice work, Julia.
So what SHOULD she wear to the office this summer? And how can she balance her own, slightly dressier personal style and the very casual dress code at work?
The essential strategy for the casual office is to think about both the cut of your clothes and the fabric. You can find more tailored pieces in more casual fabrics (a structured skirt in a nice cotton twill, for example). Julia can look for knit shirts that are NOT tee shirts or for lightweight sweaters with some detailing (a faux wrap or some seaming under the bust or at the waistline). She can opt for open-toed shoes or cool flats rather than pumps.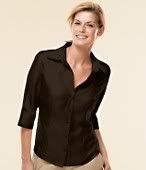 Julia wants to think about mixing more tailored pieces–a suit skirt, for example–with more casual pieces–a cotton camp shirt, or a really beautiful tee shirt. If she wants to wear a blouse, she should look for something with short or three-quarter length sleeves; ideally, the blouse would hit at the hip and would be fitted through the body, to give her a nice tailored line. She can wear it untucked for a more casual look, as long as it's not too long (the untucked hem should NOT cover her backside but should hit about three inches below the waistband of her skirt or trousers). Julia can also pair a dressier blouse or sweater with capri pants, preferably in a cotton blend (not just a regular cotton chino, which is TOO casual–save those for the weekend). I like a little kitten heel or a pointy toed flat with capris, for a slightly dressier look.
Since denim is acceptable in this office, Julia can look for more tailored pieces, like denim trousers or a denim pencil or A-line skirt. Again, wear these not with a basic tee but with something a little more dressed up. Longer jeans, hemmed for heels, are more professional than jeans and flats (or, god forbid, flip flops). Do NOT wear jeans that are faded or have holes in them. Certainly not to the office, but not ever really. If your jeans are showing wear and tear, get a new pair. I'm begging you.
Julia is really in an enviable position, because her work wardrobe will translate easily to weekends and after hours. She can hold on to her more traditional style and still fit in with her casual casual casual office, AND she will look great all the time. And isn't that the goal?
All of the pieces pictured here are available at Ann Taylor, which has a terrific selection of casual basics for work and weekend.
Subscribe to blog via RSS
Check out our popular Q&A area to ask questions and search for answers.
Check out our favorite quick and easy recipes, perfect for busy moms.
Check out our daily picks for affordable luxuries for you and your family.