The Working Closet is your source for the best of what's hip and fresh in fashion and beauty. Susan Wagner keeps you up-to-date on trends and offers tips and tricks for making everything in your closet truly work for you.

You can also catch Susan over at Working Closet.
| | | | | |
| --- | --- | --- | --- | --- |
| | | | | |
If you are supposed to go to a cocktail event after work, what are some appropriate outfits to wear? I'm having a bit of challenge regarding this for Thursday night, as I'm heading straight from work to a BlogHer event. I think summer is easy because you can just put on a dress, but in my mind, that's about it.
Sara is right: a dress is the perfect solution for a day that will begin at the office and end with drinks and dinner. The secret to spiffing your workaday look up for the cocktail hour is accessories. Add a cool necklace or a pair of fancy chandelier earrings, something more elaborate or jingly than you would wear to work; swap your daytime shoes for a pair with embellishment or an open toe, and take your lipstick and cell phone out of your work tote and toss them in a wee little evening bag. And you're good to go!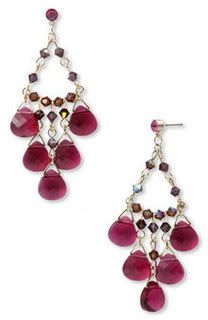 Nordstrom crystal chandelier earrings, currently $64.90
Not a dress girl? This works with pants and a blouse or a skirt and tee as well. I like a basic black tee with big gumball pearls for cocktails, or capri pants with strappy sandals. An embellished tank is also a good option; wear a jacket or sweater over it for the office, and then shed the jacket for after hours. A little well-placed bling can set the tone for an evening on the town, and make you look like you're out for the evening, not on the way to a meeting.
Going out after work doesn't mean carrying an entirely different outfit with you; change out some small details at the end of the workday, powder your nose, put on a sexier lip color, and you're good to go. You can also take five minutes to put your hair up (or let it down, or put in a sparkly clip). In five minutes, you can be party ready, even if you are coming straight from the office.
If you will be at BlogHer this week, please come say hello! And for a list of fun things to do while you're in Chicago, check out Sara's post at the Chicago Moms Blog.
Subscribe to blog via RSS
Check out our popular Q&A area to ask questions and search for answers.
Check out our favorite quick and easy recipes, perfect for busy moms.
Check out our daily picks for affordable luxuries for you and your family.