The Working Closet is your source for the best of what's hip and fresh in fashion and beauty. Susan Wagner keeps you up-to-date on trends and offers tips and tricks for making everything in your closet truly work for you.

You can also catch Susan over at Working Closet.
| | | | | |
| --- | --- | --- | --- | --- |
| | | | | |
I'm all about basics, for everyone, but especially during pregnancy, because you're trying to balance looking good and making sure everything fits, all without spending your entire year's clothing budget on pieces that will only be useful for maybe six months, tops.
Did I say balance? I meant juggle.
The secret is to choose a small collection of staples, pieces that are the maternity version of what you would wear if you were NOT pregnant. For some things–tees and yoga pants, for example–look to retailers like Target; if your tees don't survive the pregnancy, it doesn't really matter. (But even for lounge wear, please PLEASE buy proper maternity pieces–don't just make due with your husband's sweats and tees. PLEASE. I'm begging you.)
If your office is very conservative, it might be worthwhile to invest in one suit and just wear the hell out of it. Look for something with pants AND a skirt; mix and match the pieces like you would a non-maternity suit. And don't worry about wearing the same thing over and over–after all, you're pregnant! How many maternity suits can you be expected to buy?
Think also about getting at least one dress, particularly for summer. A shirt dress is a great option because it can go easily from work to weekend. Wear pumps or dressy flats for the office, and cute skimmers for the weekend. Wear it with your suit jacket or a little cardigan ( you don't need a maternity cardigan, by the way–wear a regular cardigan but DO NOT button). Choose something in a neutral color–navy or black or even white–which will allow you to change your look with accessories.
So what SPECIFIC pieces am I loving right now for the mamas-to-be? Funny you should ask . . .

Japanese Weekend Lux Jersey Polo, Bella Blu Maternity, $54.00

Mod Print Top, Bella Blu Maternity, $42.00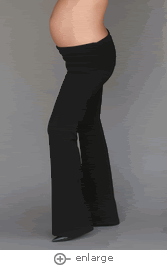 Black Fold Over Pants, Bella Blu Maternity, $88.00

Gap Maternity Roll Panel Modern Flare Pants, now $48.00

Knee Length Ponte Skirt, A Pea in the Pod, $125.00 (jacket and pants also available)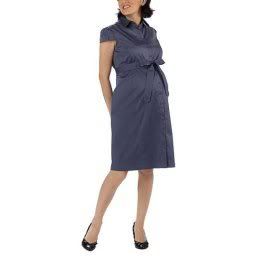 Liz Lange for Target Shirt Dress, $27.99
Subscribe to blog via RSS
Check out our popular Q&A area to ask questions and search for answers.
Check out our favorite quick and easy recipes, perfect for busy moms.
Check out our daily picks for affordable luxuries for you and your family.