The Working Closet is your source for the best of what's hip and fresh in fashion and beauty. Susan Wagner keeps you up-to-date on trends and offers tips and tricks for making everything in your closet truly work for you.

You can also catch Susan over at Working Closet.
| | | | | |
| --- | --- | --- | --- | --- |
| | | | | |
Actual things people have said this week in the comments on your Flickr photos:
"I've got to get myself more Aerosole shoes."
"Some days, the only thing keeping me from hopping on a plane back to the States is that there's an H&M on every corner in Germany. That, and the preponderance of ZARA stores."
"You dress the way I'd like to, if I were an actual grownup."
"This looks like a catalog photo. You seriously should frame this photo and put it on your husband's nightstand."
"I taught English as a Second Language in China for a year when I was 23. I was only the American woman in a city of four million. And then I was mugged. And then I was almost deported. And then I bought a lot of jewelry. And then I moved to Alaska, back to New York, met a Canadian, got married and landed in Toronto. The end."
"This whole project has made me think more when I'm getting dressed."
I hope you all are enjoying the Flickr pool; I certainly am. I love seeing your faces and your outfits and learning more about you. And I thank you, from the bottom of my fashionista heart, for your kindness and incredible effort this past week.
Only three more weeks to go! You can do it.

But before you say oh my god I cannot do this for three more weeks! let's up the ante, shall we?
In addition to a blog AND a Flickr pool, The Working Closet now has it's own Work It, Mom! GROUP! Yes indeed! What's a group, you ask? Well, it's a place to ask questions and get feedback from other Work It, Mom! moms. And it's ALSO another place to share photos. You know, like photos of what you wore to work today.
Are you following me?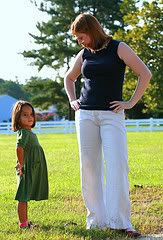 Corey and her daughter, September 4, 2007
I've posted a few photos from the Flickr pool in The Working Closet group here at Work It, Mom!, including Corey's beautiful photo (which is not properly attributed because I am a technological dork and didn't have a CLUE what I was doing but now I do and I'm so sorry, Corey!).
But I've got a lot to do these days (those episodes of What Not To Wear don't just watch themselves you know) so I need YOU ALL to be responsible for posting photos to this group. You can do it; register with WIM and start posting. Anything that you add to the Flickr pool can be added to TWC's group. I encourage you to post your Flickr photos here, too, for the rest of the WIM community to see.
How about I really make it worth your while?
Every photo that YOU post in The Working Closet group between now and September 30th enters you in a drawing for a FABULOUS!!! PRIZE!!! (To be announced next week, so stay tuned, but with all those exclamation points it has to be good, right?) If you post two photos, you will be entered twice, if you post ten photos, you will be entered ten times, and so on. Photos must be posted by midnight on September 30 to be eligible for the drawing, which will take place as soon after the 30th as I can get my act together. Promise.
Take advantage of The Working Closet group; ask questions about what to wear and where to shop, share your outfits and your ideas, or just visit with other smart stylish women. And for the next three weeks, keep on showing us what you're wearing to work.
And now I have to go stand in my closet and pick out TOMORROW'S outfit. Because you all have really put the pressure on.
Subscribe to blog via RSS
Check out our popular Q&A area to ask questions and search for answers.
Check out our favorite quick and easy recipes, perfect for busy moms.
Check out our daily picks for affordable luxuries for you and your family.