The Working Closet is your source for the best of what's hip and fresh in fashion and beauty. Susan Wagner keeps you up-to-date on trends and offers tips and tricks for making everything in your closet truly work for you.

You can also catch Susan over at Working Closet.
| | | | | |
| --- | --- | --- | --- | --- |
| | | | | |
Today we have two questions about shoes, and an announcement about the contest. Let's start with the shoes, shall we?
I have a question for you. What to wear with the cute mary janes in the shoe stores for fall. I'm lusting over some brown suede ones but I don't have a clue as to what to wear with them. I work in a very casual office so I'm in mostly jeans and kahakis. I'm thinking they would work with both of them but would I wear hoses with them? (please say no!!) socks? or just go bare? I'm in the south so that would work for a while but eventually even in South Carolina we do have winter.

Thanks for any help you can give me!

Shelly
Mary Janes would be great with jeans and khakis, and also with an A line skirt that falls to the knee. Don't pair them with skinny pants (the strap will hit you in a funny place and throw the balance of your leg line off) or with a pencil skirt (for the same reason). And please, no long skirts and Mary Janes, unless you WANT to look like a member of a religious cult. But! With a pair of straight or slightly wide legged trousers or slightly wider skirt, they are a great fall shoe.
Wear Mary Janes with opaque tights for cooler weather (match tights to your skirt OR the shoes) or with socks and trousers (match socks to shoes in this case). Or, weather permitting, wear them without anything. But NO panty hose with Mary Janes. Ever.
Next question!
Do you have any tips for online shoe shopping? I see such good deals online, but I'm never sure that I'm finding the BEST deal since there are a bunch of sites and shipping offers and it makes my head spin. Plus there's the whole buying-without-trying dilemma. And I'm always sure the shoes just won't be that cute in person. I realize most sites have easy return plans, but if you have any ideas for finding the right shoes in the first place, let's hear 'em!

Blythe
I am partial to Zappos, for the reasons Blythe mentions here. I have a difficult time finding shoes that fit properly, and so a good return policy–one that INCLUDES return shipping–is crucial if I am going to order shoes on the Internet. Zappos provides just that, with a 365 day return window (for those of you who are lazy and take more than a week or three to get things to the post office, like I often do). They will also price match and refund you 110% of the difference, which means that if you shop smart you can often get expensive shoes for five dollars.
Almost literally.
Zappos also has terrific customer service, which makes the whole shopping experience worthwhile.
Okay, let's talk about the contest!
Remember when I said there would be a Fabulous Prize? How about this for fabulous: one lucky winner, chosen at random from the photos added to The Working Closet group photo pool will win a Superhero Necklace made by Andrea Scher. The winner will get to choose which one she wants.
How fabulous is that?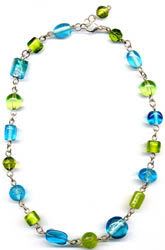 Superhero necklace in Grass and Sky, by Andrea Scher
From the Superhero FAQ page:
What are superhero necklaces made of?
Mostly vintage glass & vintage lucite beads from all over the world. All wire and findings are sterling silver and every silver ring between each bead is soldered for extra durability.
Each piece is unique, but the handy system of color families helps you to know what you will receive.

What superpowers will I acquire?
They will protect you from harm
attract people to you
and create magic in your life
Details about how to enter the contest can be found here. And no, you do NOT have to be a mom, but yes, you DO need to be registered at Work It, Mom! (Go here to register.) Haven't joined the Flickr pool? Do it today! It's a lovely group and we're having so much fun seeing what everyone has in her closet.
And if you have ANY questions–about the Flickr pool or the contest or shoes or what to wear on a random Tuesday–e-mail me at fridaystyle DOT susan AT gmail DOT com.
Subscribe to blog via RSS
Check out our popular Q&A area to ask questions and search for answers.
Check out our favorite quick and easy recipes, perfect for busy moms.
Check out our daily picks for affordable luxuries for you and your family.