The Working Closet is your source for the best of what's hip and fresh in fashion and beauty. Susan Wagner keeps you up-to-date on trends and offers tips and tricks for making everything in your closet truly work for you.

You can also catch Susan over at Working Closet.
| | | | | |
| --- | --- | --- | --- | --- |
| | | | | |
We've talked before about building a basics wardrobe, and about how important it is to have go-to outfits; now it's time to think about ways to keep that closet of essential, workable pieces interesting and fresh.
The answer, of course, is accessories.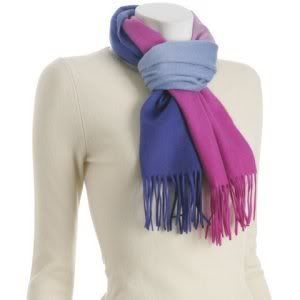 Kashmere scarf, Bluefly, $65.00
The idea of accessorizing scares a lot of women, though — they don't know what to choose or how to wear it. Here is a short list of five accessories you really need in your closet; over the next month, we will talk about how to make them work, for every day and and for special occasions.

1. A stand-out bag. Your bag is probably the most important accessory in your closet; in fact, you may not even think of it as an accessory because it is such an integral part of your every day wardrobe. But just because your bag serves a necessary function doesn't mean it needs to look utilitarian. Look for bags with great details — interesting hardware or stitching, beautiful material, a distinct shape. I carry a larger tote most of the time, because I am often lugging my laptop and Filofax and camera (plus an entire Justice League of plastic action figures); to keep it from looking like a shopping bag, I look for bright colors and interesting patterns. Be sure to clean and repair your bag as it wears, too — a well-cared-for bag can last for years.
2. A pair of bright colored shoes. It's so easy to default to black and brown shoes, because they will go with EVERYTHING. But on days when you're wearing all black or brown, wouldn't it be great to have some bright pink shoes? Or cozy green? Something to make your outfit pop? Red is a universally happy shoe color; if you're concerned about looking like a hooker, opt for a ballet flat or driving moc in a cheery red. But don't fear the high heeled red shoe; worn thoughtfully (ie, NOT with a miniskirt), a red pump can give your most basic basics a sexy edge that is still work-appropriate. Think as well about a metallic or animal print. Leopard goes with everything, as does silver.
3. A signature piece of jewelry. You don't need to change your jewelry every day; instead, choose a statement piece and wear it all the time. It can be as simple as the same pair of diamond stud earrings every day or as elaborate as an antique charm bracelet. When you don't have the time to carefully select jewelry for a particular outfit, you will have this one piece to fall back on; you can also mix and match it with other pieces for a different look. Vintage is always a good choice (either real or
4. A long, slim scarf. Wrap it around your neck for warmth; wrap it around your shoulders for coverage; wrap it around the handle of your tote for color. A scarf — in silk or wool or pashmina — is an easy way to add visual interest to a simple crew neck tee or sweater, or a basic dress, or a solid colored bag.
5. Some great dark sunglasses. Think Jackie Onassis, with her big black frames. Choose a style that is right for your face — square faces can wear round glasses, and vice versa. Go as big and as dark as you can — think movie star. Really cool sunglasses will make even your most mundane outfit a little sexier. Target has GREAT sunglasses, for under $20.00.
Finally, remember that the key to accessories is that less is more; don't feel like you need a standout bag AND bright shoes AND a scarf, all on the same day. Choose one focus for your outfit and really work that piece. We will talk in more detail about how to do that, starting next week with scarves.
And don't forget: November is Accessories Month at The Working Closet Flickr pool; show us your bags and your bling (and of COURSE your SHOES).
Subscribe to blog via RSS
Check out our popular Q&A area to ask questions and search for answers.
Check out our favorite quick and easy recipes, perfect for busy moms.
Check out our daily picks for affordable luxuries for you and your family.