The Working Closet is your source for the best of what's hip and fresh in fashion and beauty. Susan Wagner keeps you up-to-date on trends and offers tips and tricks for making everything in your closet truly work for you.

You can also catch Susan over at Working Closet.
| | | | | |
| --- | --- | --- | --- | --- |
| | | | | |
Need a little help getting your kids dressed and out the door in the morning? Follow these three basic rules and you will be on the road in no time.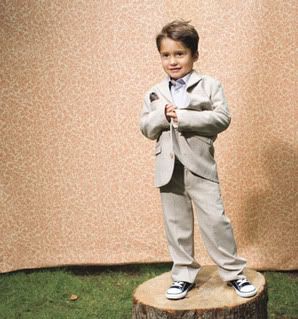 Cookie Magazine offer kid style suggestions for dressing up

1. Keep it simple. Kids clothing should be easy to put on, no matter how old your kids are. Little kids need elastic waists or simple hook-and-eye closures, rather than buttons. Older kids can have more complex fastenings, but their clothes shouldn't need lots of constant adjustment. Your child will be more comfortable and look better in clothes that she can toss on and forget about, no matter how old she is.
2. Limit choices. For little kids, offer two options: this shirt or that one, this dress or that one. For bigger kids, particularly pre-teens, be clear about what is and is not appropriate attire. Kids of all ages are overwhelmed by too many options, and will almost always gravitate toward the worst possible choice. When the weather gets cold, take your preschooler's shorts out of the dresser; if your teen comes home with an inappropriately low cut top, have her return it. Part of your job as the parent is to help your child make good choices, and wearing appropriate clothes is one way to teach this.
3. Shop in bulk. When you and your child find a look that works for both of you, buy multiples. This will help you avoid the morning scramble when there are no clean jeans or long-sleeved tees. It also helps your child to put together a look that is consistent and appropriate. Smaller children can choose what color they want to wear each day, while teens can pick accessories to go with the basic jeans-and-tee look. A scarf or jacket or pair of earrings can change your teen's look dramatically without costing a lot or adding too many more steps in the morning.
The Work It, Kids! photo contest ends tomorrow — show us what your kids were wearing this holiday season for a chance to win one of three Old Navy gift cards! Details are here. Winners will be announced RIGHT HERE at The Working Closet on Monday. I know you can't wait! I can't either.
Subscribe to blog via RSS
Check out our popular Q&A area to ask questions and search for answers.
Check out our favorite quick and easy recipes, perfect for busy moms.
Check out our daily picks for affordable luxuries for you and your family.