The Working Closet is your source for the best of what's hip and fresh in fashion and beauty. Susan Wagner keeps you up-to-date on trends and offers tips and tricks for making everything in your closet truly work for you.

You can also catch Susan over at Working Closet.
| | | | | |
| --- | --- | --- | --- | --- |
| | | | | |
Crist has a question about shoes:
I need some knock-about shoes. For lack of a better description, I need some stylish tennis shoes that are sleek and more streamlined than the shoes I work out in. I see cute pairs on many a girl, but have never actually found any I've desired to even try on.
The other morning my kids and I were talking about shoes at the breakfast table (what, you don't have conversations about footwear with your children during the Most Important Meal of the Day?) and my five-year-old asked why I did not own any tennis shoes. And I said that of COURSE I did, and he said, "No, those are not tennis shoes; you cannot play basketball in those."
Point taken.

Crist has already ordered a pair of shoes from Garnet Hill, which are perfect for casual running around. Gola Suede lace-Ups, $80.00.
This is a great look — sleek and light but still sporty and casual. Puma also makes some terrific little suede "athletic" shoes that are very much like these.
I'm a big fan of the skimmer for casual wear; it's the perfect cross between tennis shoe and ballet flat, and can be worn with everything from a skirt to yoga pants. Keds has a nice range of cute colors and styles, like these awesome Mary Janes, available at Nordstrom for $49.95.
There is also the standard Preppy fall-back, the Lacoste tennis shoe (not meant for playing tennis, by the way, just for watching). Available in six colors (including white) at Nordstrom for $79.95.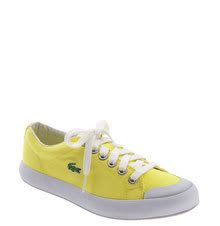 I also have to point out these cool Vans and this great pair from BC Footwear. Because who can resist PLAID?!?
I would also highly recommend Berne Mev shoes, which are cute and comfy and totally versatile. I wrote about them at BlogHer a while back, and because I am lazy (and also still recovering from the flu) I'm just going to send you over there to learn all about them. Sorry about that.
Now YOU tell Crist: what are you wearing for knocking around on the weekends? I'll be over here lying on the sofa waiting to see what you all have to say. Thank you!
*Actual subject line of Crist's e-mail.
Subscribe to blog via RSS
Check out our popular Q&A area to ask questions and search for answers.
Check out our favorite quick and easy recipes, perfect for busy moms.
Check out our daily picks for affordable luxuries for you and your family.