The Working Closet is your source for the best of what's hip and fresh in fashion and beauty. Susan Wagner keeps you up-to-date on trends and offers tips and tricks for making everything in your closet truly work for you.

You can also catch Susan over at Working Closet.
| | | | | |
| --- | --- | --- | --- | --- |
| | | | | |
My favorite look for summer is the maxi dress; I can't tell you how happy I am to see actual dresses cropping up as day wear. The maxi dress is great because it flatters a wide range of figures, and can be as casual, or as dramatic, as you like.
How can you make a maxi work for you? Simple!



Knot front maxi, $79.00 at Lane Bryant, Tie-dye maxi, $59.50 at Avenue
A maxi dress is not a long dress, at least not in the way we normally think of a "long" dress. The maxi is a day dress — wear it to run errands and hustle the kids around and go to the pool. Pair your maxi with strappy sandals or embellished flip flops; add funky, chunky, Bohemian jewelry or a big hat to give it a 70's edge. But keep it casual — this isn't a black tie gala kind of dress. Think of your maxi dress as one more alternative to shorts and a tee.
Look for a shape that flatters your figure, and choose a style that lets you wear a proper bra, please. Maxis are available in jersey, for that yoga pants feel, or soft cotton, like a dressy sundress. Dark colors are great for summer — a black maxi dress is hip and cool — but don't dismiss brights and prints. A hemline that hits at the ankle bone will be long enough to keep you covered but not so long that you're constantly tripping on it.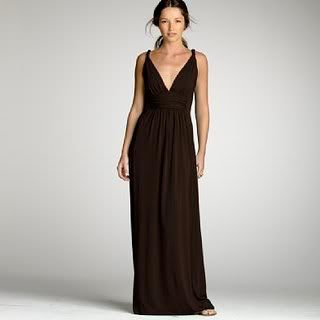 Dressy jersey Grecian V-neck long dress, $98.00 at J. Crew
Can you wear a maxi dress to work? Probably not — this isn't exactly a professional look. The maxi is about being hip and comfortable all at once. But if you're prone to dress your best from 9 to 5 and then toss on whatever is lying on the closet floor for evenings and weekends, give the maxi a try.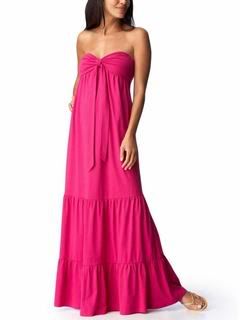 Tiered maxi tube dress, $25.00 at Old Navy
Are you sporting a maxi dress this summer? Let's hear about it!
Subscribe to blog via RSS
Check out our popular Q&A area to ask questions and search for answers.
Check out our favorite quick and easy recipes, perfect for busy moms.
Check out our daily picks for affordable luxuries for you and your family.